Your brain function is altered when you're addicted to alcohol or drugs. If you or a loved one has a substance dependency, you know that quitting isn't always as simple as it seems. Addiction can be overcome, but it takes commitment and expert help. NAD+ is a new intravenous therapy that detoxifies the body using the coenzyme nicotinamide adenine dinucleotide (NAD).
NAD+ has the potential to be helpful in treating addiction. NAD+ therapy can help you get through the most dreaded symptoms of withdrawal. In addition to providing you with NAD+ therapy, our team at Asheville Detox Center also provides other holistic detox and addiction treatment services. NAD+ may produce a balance in your mind that will help provide you with success and recovery. If you are interested in learning more about the benefits of NAD+ detox, keep reading. Typically, with drug or alcohol dependence, the body is not sufficiently receiving the vitamins and minerals it requires. This can keep individuals stuck in a cycle of sickness and substance dependence. By using NAD IV therapy, or NAD+ therapy, our infusion specialists can provide pain and comfort management while also ensuring an individual's body stays hydrated and as healthy as possible throughout the detox process.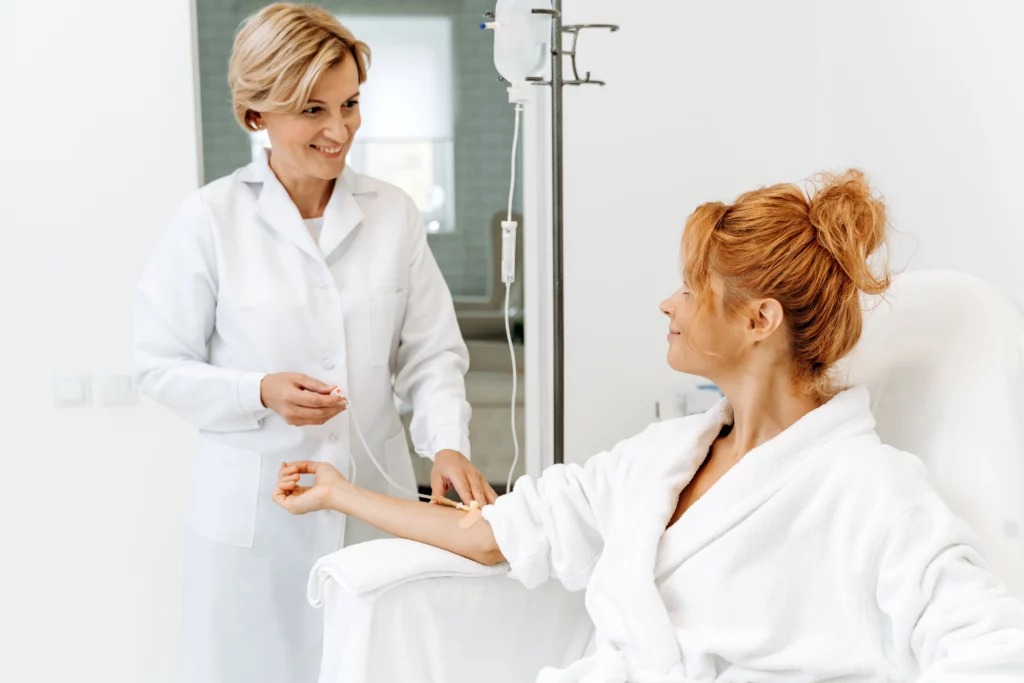 What is NAD?
Because of its many crucial roles in promoting health and longevity, nicotinamide adenine dinucleotide (NAD), a coenzyme found in all living cells, has been labeled a regenerative protein. It has been identified as a coenzyme in all living cells. It's a molecule with a lot of potential for new therapeutic approaches. It has been shown to battle a wide range of aging and chronic health issues in addition to overall brain health. This substance has a lot of potential for new therapeutic applications.
The NAD+ molecule can exist in two forms—an active form known as NAD+ and an inactive form known as NADH. It was discovered in the early 1900s and was the subject of much investigation, but recent research has revealed its broad potential. NADH, in contrast, has been known for decades, but scientists are now beginning to fully grasp its potential. Because of its diverse functions in the human body, NAD+ has recently been studied as a potential therapy for treating neurological and organ disorders. NAD+ is a helper molecule that binds with other enzymes to catalyze reactions. In humans, sirtuins, which are responsible for a wide range of bodily functions, need coenzymes to function properly. Sirtuins are proteins that are responsible for carrying out many biological processes in the human body.
Benefits of NAD:
Enhances mitochondrial function
Preserves chromosomes
Protecting and restoring DNA
Cellular energy extraction from food
NAD+ is an essential coenzyme required for life. As we get older or struggle for long periods of times with disorders, our bodies produce less and less of it. This is one reason why we experience the negative effects of aging or disease and become more vulnerable to diseases as time passes. IV therapy may be used to boost NAD+ levels in your body. This process is a natural and holistic way to help your body fight against aging and disease and feel healthier and younger.
The Importance of NAD+ Therapy
Through properly adjusting the body's chemistry with necessary vitamins and minerals, patients receiving NAD+ therapy often experience increased energy levels, cell regeneration, and improved mental health. When used during detox, this therapy can make the detoxing process more comfortable, less painful, and far safer. With increased energy, improved mental health, and proper nourishment, clients are also more likely to be successful moving forward. Although ridding oneself of all traces of an addictive substance is the main goal of detox, restoring overall health and immunity is equally important.
What is NAD IV Therapy
IV therapy and IV nutrition can be defined as various options for which intravenous infusions of vitamins and supplements are administered. These infusions may improve your health or well-being in several ways. You can only receive 100% bioavailability of NAD+ through an IV drip if it is infused into your body. Your body will absorb the highest coenzymes available and convert them into molecular energy through oral supplements. IV therapy is currently the most efficient and safest method to supplement coenzymes in your body.
Slows the progression of Alzheimer's and other neurological diseases
Reduces chronic fatigue
Improves brain function 
Boosts energy levels 
Increases metabolism
Fights internal inflammation
Regenerates cells
Slows aging 
NAD+ IV Therapy and Energy Levels
Both chronic fatigues caused by illness or aging can be improved by NAD+. An intravenous coenzyme infusion delivers energy to your body's cells on a molecular level to provide you with more energy and put a bounce in your step.
NAD+ also improves your metabolic health in addition to boosting your general vitality. A properly functioning metabolism is important for maintaining a healthy weight and controlling blood sugar.
NAD+ IV Therapy and the Brain
People report feeling mentally clearer after taking NAD+ supplements. This improvement in mental sharpness helps them feel better on a daily basis and contributes to their overall wellness. Cognitive decline is one of the most noticeable effects of aging. Forgetting things, being constantly distracted, and experiencing mental fogginess are all common outcomes.
As a result, clients experience increased mental cognition, including sharper mental clarity, increased concentration, and enhanced memory recall. This can happen as a result of cells being stimulated and protected by NAD+ IV infusions. Because IV therapy can help you battle against common mental issues, like anxiety, depression, and mood problems, your brain function can be enhanced.
NAD+ IV Therapy for Addiction
There is promising evidence that NAD+ IV drips and infusions can be used as a form of addiction therapy. The coenzyme itself is not a cure for addiction, but it can replenish brain cells that have been destroyed by substance abuse. Addiction is not cured by the coenzyme itself, but it can help restore your brain's pre-addiction brain chemistry. Opioid receptors can be regenerated by NAD+, thereby reducing cravings and lessening withdrawals. This may lead to lower substance dependence and faster addiction recovery.
According to recent research, the excessive intake of drugs and alcohol depletes the body's NAD supply, therefore, the brain isn't able to obtain the same amount of energy from food. NAD is an enzyme that is necessary for brain function, therefore, in order to restore its levels, the brain is supplied with NAD co-enzymes.
New research on the advantages and uses of NAD therapy is ongoing as we speak, but supportive evidence has been documented in recent years. In 2019, a Los Angeles Clinic developed a protocol for individuals with acute withdrawal symptoms using IV NAD. Those with chronic Opioid and alcohol dependency who received NAD therapy in follow-up data had a significant decrease in withdrawal symptoms such as cravings, anxiety, stress, and depression.
Four positive effects result from replenishing the brain's NAD levels:
It flushes out all of the drugs still in the individual's body. 
Withdrawal symptoms are significantly reduced, making them much more bearable and easier to overcome.
Cravings for alcohol and Opioids are diminished
Physical and mental pains of withdrawal are reduced
NAD+ IV Therapy in Asheville
If you or a loved one has attempted to recover in the past and failed, it may appear difficult to do so once more. The pain associated with a second attempt might always be a significant barrier, but NAD removes that barrier. There may have been something missing from the previous treatment that could help with detox and withdrawal symptoms. However, it is best not to rely exclusively on one form of treatment for recovery. While this treatment may appear like a miracle, it is only the beginning. Real recovery requires delving deep into the problem and working on it daily. NAD is a beginning, not a cure.
Our specialists at Asheville Detox Center are medically trained in medical detoxification, medication administration, and NAD+ infusion therapy. Because our main objective is to guarantee that clients are safe, healthy, and comfortable at all times, we have provided this service. For more information about NAD+ therapy or any of the other services we offer, contact Asheville Detox Center today. We are here to answer any inquiries you might have and assist you in your recovery journey.
Medically Reviewed by Jody Mabry – NP