In addition to illegal drugs such as heroin, opioids are a class of prescription drugs that are used to treat chronic and significant pain. It is recommended that opioid detox be undergone within a medical setting due to unpleasant, possibly adverse reactions that may occur during the withdrawal period. Even when used as recommended, long-term opioid use may result in dependence, which is a condition in which individuals develop uncomfortable withdrawal symptoms when they quit.
Individuals who use illegal opioids or misuse prescription opioids—by taking them in manners not originally intended, such as taking someone else's prescription or consuming larger amounts of the substance than prescribed—have an elevated risk of developing an opioid abuse disorder, a medical condition in which individuals continue using opioids despite the negative consequences on their lives.
Opioids and the Brain
When a person takes an opioid, they may experience drowsiness, relaxation, and slowed breathing, among other side effects. When someone takes an opioid, they also typically experience a surge of pleasure known as "euphoria" that they find highly gratifying.
When the pain signals between the body and the brain are disrupted, the perception of painful stimuli become dulled. The dopamine molecule, which controls rewarding and reinforcing behaviors, is increased by opioids. The release of dopamine increases feelings of pleasure, which reinforces drug use. There is a connection between a drug releasing dopamine "telling" the brain to continue behaving in the same manner, and what makes opioids addictive.
Commonly Prescribed Opioids
Short-term pain relief following dental surgery is one of many situations in which opioids are utilized. Diseases such as cancer can result in chronic pain, for which opioids may be used. The following opioids are among the most frequently prescribed:
Morphine
Oxycodone
Hydrocodone
Oxymorphone
Tramadol
Fentanyl
Codeine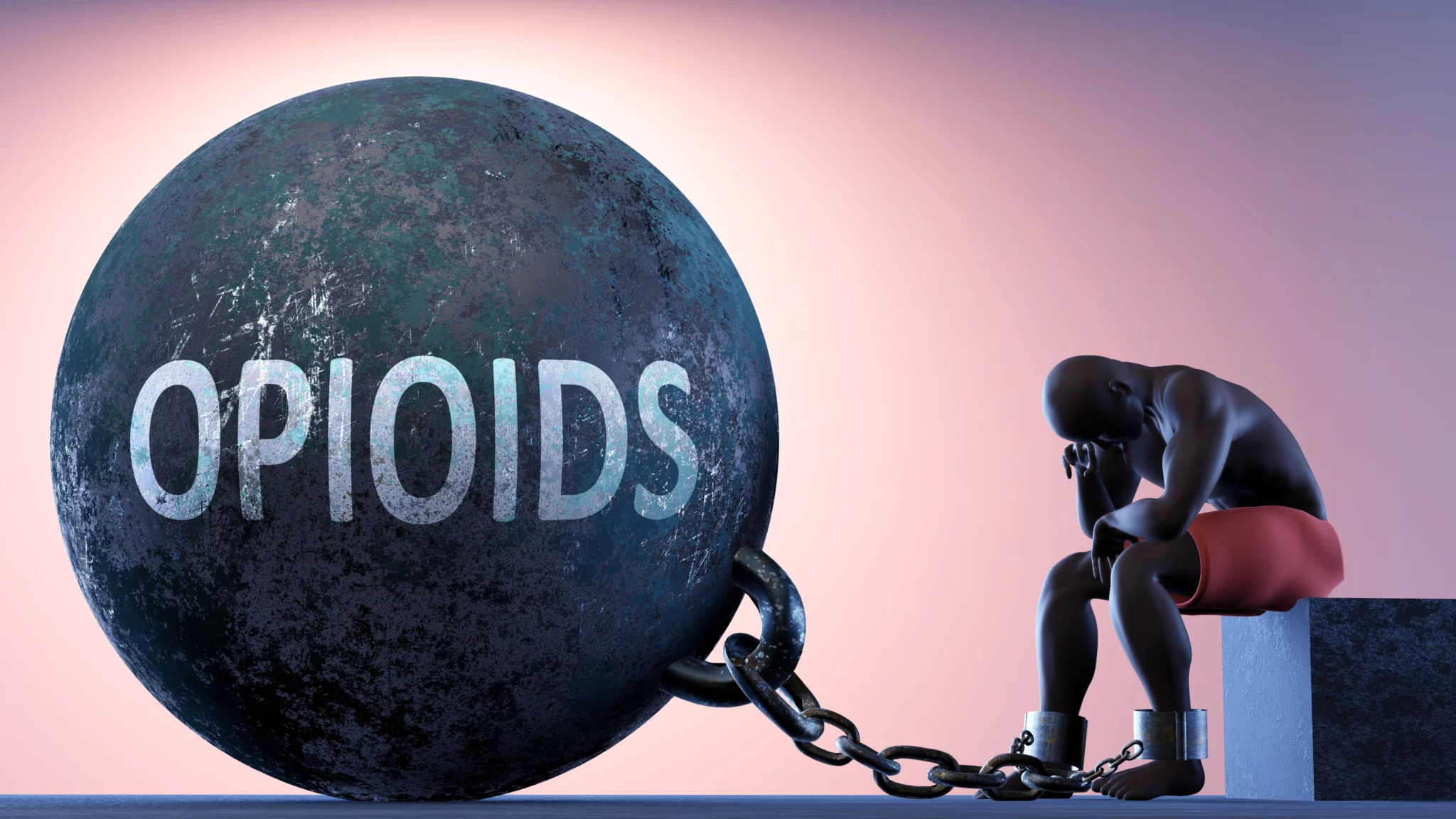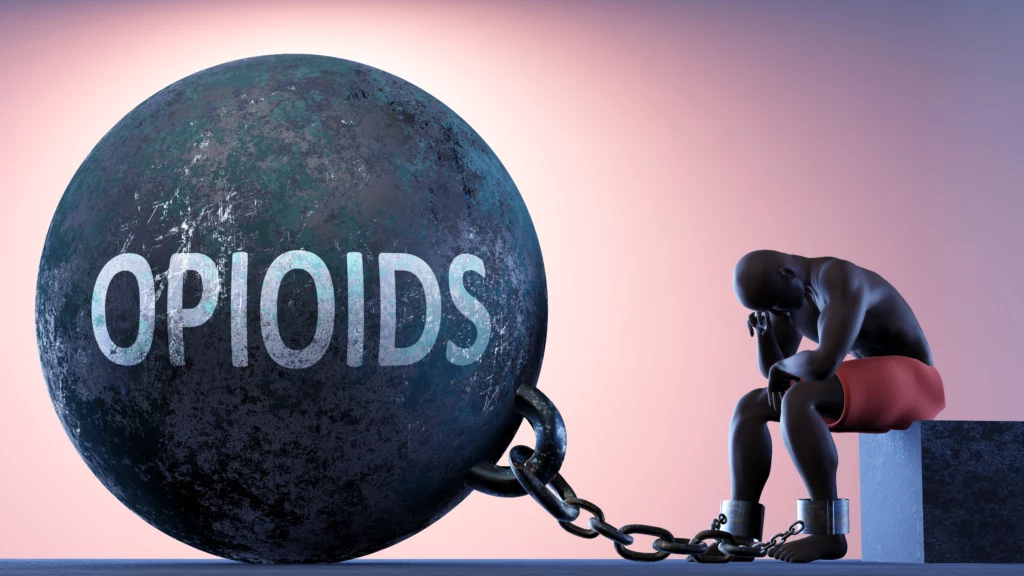 Opioid Withdrawal Symptoms
In order to receive the same level of gratification, a person who is tolerant to opioids must consume more of the drug. Eventually, they may become physically dependent on it. When an opioid-addicted person stops or suddenly reduces their intake of opioids, they will experience withdrawal symptoms.
A person might try to reduce their or stop using opioids and, as a result of experiencing unpleasant withdrawal symptoms, begin taking the drug again to relieve them. This results in a vicious cycle, in which someone tries to quit or reduce their opioid use and, as a result of experiencing uncomfortable withdrawal symptoms, starts using again in order to alleviate them.
Anyone who is dependent on opioids can experience withdrawal if they suddenly reduce their dosage or stop using the drug altogether. Opioid withdrawal symptoms range from mild to severe and include:
Diarrhea
Racing heart
Muscle and bone pain
Sweating
Insomnia
Nausea and vomiting
Anxiety
Increased body temperature
Chills
High blood pressure
What is Opioid Detox?
A medically supervised withdrawal or "detoxification" is the procedure of weaning a person off an opioid for which they have developed a dependence. Detoxification is frequently used interchangeably with medically supervised withdrawal management in an effort to de-stigmatize the procedure.
Withdrawal can be accomplished at different levels of care and supervision, and it can be fast or slow. The procedure known as "detox" is unique for each person and each treatment plan. Drugs can be administered by physicians to assist in this process to make it both safer and more pleasant.
Is Opioid Detox Necessary?
Withdrawal from opioids can be both physically uncomfortable and painful. If an individual has developed a dependence on an opioid in any form, it is highly recommended to seek professional detox assistance to prevent any dangers of withdrawal from occurring.
According to the Substance Abuse and Mental Health Services Administration (SAMHSA), "hospitalization (or some form of 24-hour medical care) is generally the preferred setting for opioid detoxification, based on humanitarian and safety concerns." During a professional medical detox, patients are provided with medicine and monitored by professionals to keep them safe and comfortable throughout the process.
How Long Does Opioid Detox Last?
Withdrawal symptoms from certain opioids (such as heroin or short-acting prescription opioids) may appear sooner or last longer than others. The type of opioid (for example, heroin, short-acting prescription opioids, or long-acting prescription opioids) determines whether and how severe withdrawal symptoms will be, as well as the time symptoms first appeared, the duration of symptoms, the length of opioid use, the dose taken, and the time between doses.
Heroin and short-acting opioid withdrawal symptoms are typically seen within the first eight to twelve hours after the last dose, peak in the first three days, and last up to seven days. Short-acting opioids, including morphine and immediate-release versions of oxycodone, hydrocodone, and fentanyl, produce withdrawal symptoms within the first eight to twenty-four hours after the last dose, and withdrawal symptoms may last up to ten days.
Long-acting opioids, including methadone and extended- or controlled-release drugs such as morphine, oxycodone, hydrocodone, and fentanyl, can produce withdrawal symptoms up to 36 hours after the last dose, and they may last as long as fourteen days or longer.
What To Expect
The duration of detox from opioids varies on how long you have been taking the drug, the number of drugs you have been taking, and how long you have been taking them. Generally, opioid detoxification takes three to seven days.
At Asheville Detox Center, a detox specialist will conduct a comprehensive medical evaluation when you come to our facility to determine your individual requirements. Based on the information gathered from the initial assessment, we then create a customized care program for you. It's crucial to tell our specialist and medical support team if you are taking any other drugs, especially alcohol, as these may have an impact on detox medication. The more our specialists are aware of, the more comfortable they can make you during your customized care program.
Comprehensive assessments are also performed by our specialists to determine whether or not you will require medication during your stay with us. After we've created a customized support plan for you, we'll evaluate your general health and determine whether or not you'll require medication. If you do, we'll make sure that your medical needs are met during your stay with us. Our committed team of medical professionals, addiction nurses, addiction therapists, and support workers will all work together to ensure that any interactions between existing medicines and detox medications are handled with care.
At Asheville Detox Center, our specialists perform a thorough evaluation and tailor a treatment program to each individual's needs and recovery goals. Our medical and client support team provides 24/7 supervision, ensuring that all patients have a safe and comfortable opioid detox experience in order to move forward in their recovery process.
Is Opioid Detox Safe?
Research has proven that medical detox is both safe and effective in assisting the opioid withdrawal process. Every step of the detox process is supervised by medical professionals, including experienced nurses and medical personnel. Medical personnel supervises all aspects of detoxification, keeping track of heart rate, blood pressure, and temperature throughout the process to guarantee a safe withdrawal.
It is important to realize that opioid withdrawal symptoms are not usually fatal. In some scenarios, preexisting medical problems or health issues resulting from injected drug abuse might be life-threatening. An increased chance of overdose occurs for those who return to opioid consumption after a period of abstinence. Someone detoxing at home or without medical supervision might suffer from dehydration and heart failure as a result of untreated diarrhea and vomiting.
What Comes After Opioid Detox?
The most effective way to achieve long-term sobriety is to pursue continued caddiction treatment after detoxification. While working with their specialist, a client should determine the most suitable continuing treatment plan based on personal needs and individual circumstances.
At Asheville Detox Center, our aftercare specialists work with each client to determine the best plan of action moving forward. Due to our many addiction treatment affiliations within the region, we are confident we will find continued treatment that suits each clients individual wants and needs.
Patients should also consider their financial standing, criminal justice history, prior responses to treatment, and any co-occurring psychological disorders. Inpatient and outpatient care, individual or group therapy, and/or medication are all options.
Opioid Detox at Asheville Detox Center
Drug and alcohol-related disorders are frequently treated with supervised medical detoxification, which is available 24 hours a day at Asheville Detox Center. Our detox program provides round-the-clock nursing care, as well as detoxification for people with co-existing mental health issues and for those who are suffering from polysubstance abuse. Each client's detoxification requirements are addressed and case managers work with each client individually to determine the best next step in treatment once the individual has completed the detox program.
At Asheville Detox Center, we have created a relaxing, serene environment because we want our clients to feel safe, supported, and at ease throughout the detoxification process. Detox specialists are present 24/7 to supervise the process, and supplemental services such as MAT and are available to clients who might benefit from this additional care. To learn more about medical detox or any of the services we offer, contact the specialists at Asheville Detox Center today. We are here and ready to help.
Medically Reviewed by Jodi Mabry – NP