Because it can be difficult to determine whether someone you care about is using illicit opioids or abusing prescription pain medication, it is important to know the signs of an opioid addiction. If the drug was prescribed for an injury or illness, it can be particularly difficult to detect whether a loved one is abusing these drugs. Individuals abusing opioids may become dependent on them, resulting in increased consumption.
When someone takes higher doses of a substance, they develop a tolerance, causing them to take even more of it to achieve the desired effect. A person's opioid use may develop into an opioid use disorder or "addiction" if they display certain physical, behavioral, cognitive, and psychosocial symptoms that we will discuss in this article.
Opioid Addiction in the United States
The prevalence of opioid addiction has grown markedly in the United States. More than two million people are currently struggling with this condition, and the trend does not seem to be slowing down. In fact, opioid prescriptions quadrupled between 1999 and 2014. Because of this, opioids became commonly accessible and easy to acquire, it should not come as a surprise that the U.S. is currently facing an opioid crisis.
Between 2000 and 2018, more than one million Americans died of drug overdoses, the majority of which were caused by opioids. Across the country, the toll has risen as a result of the COVID-19 epidemic, resulting in more than 1,500 deaths per week from opioid-related overdoses. The graph below depicts exactly how dramatic the increase in opioid-related overdose fatalities has recently become.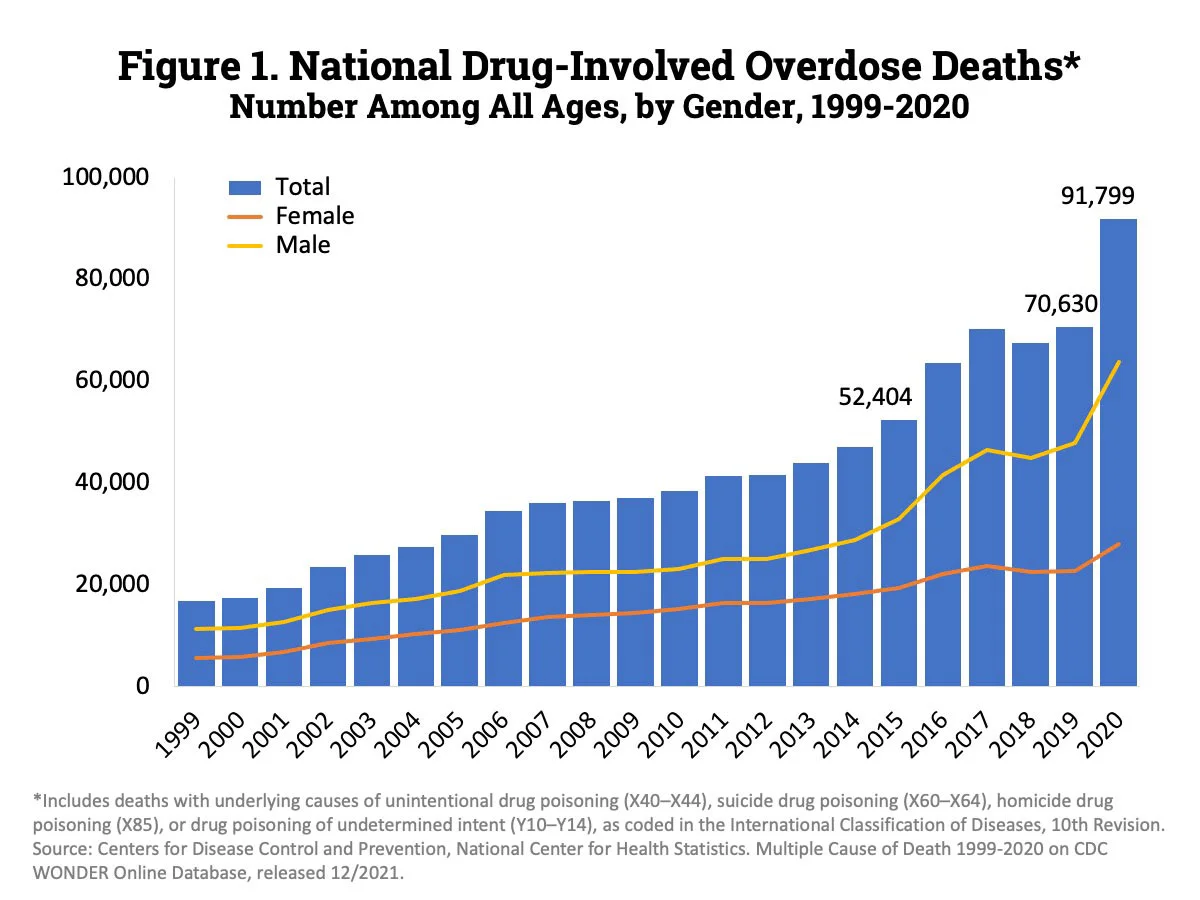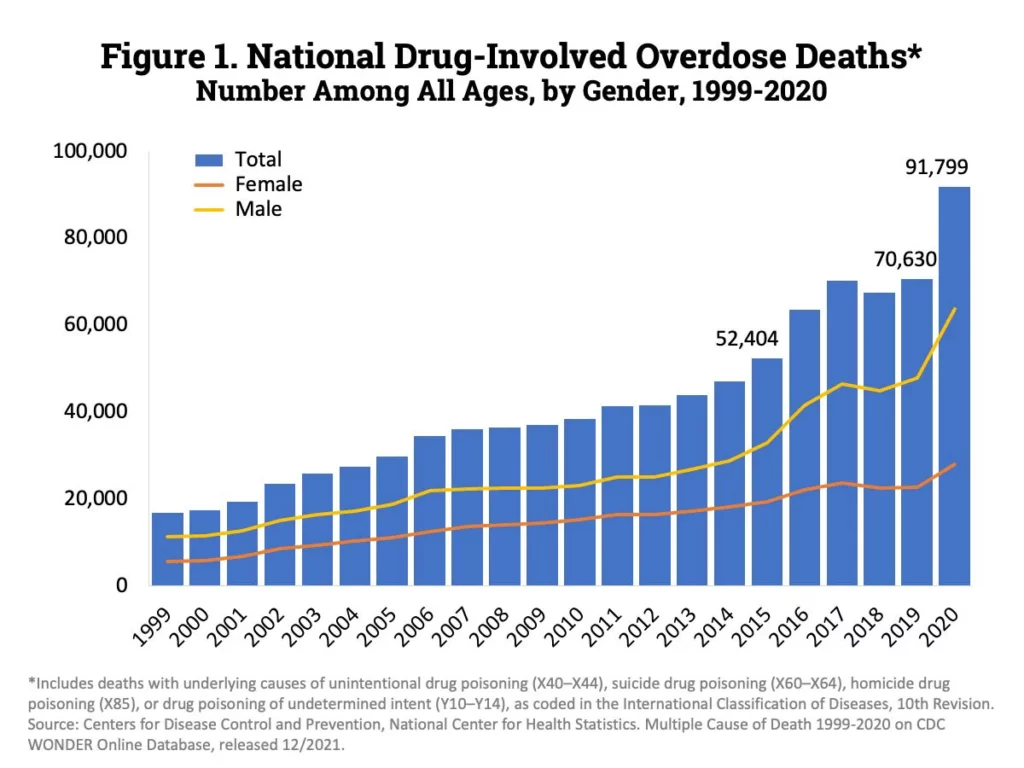 The drop in U.S. life expectancy since 2015 has been driven in large part by the rising number of deaths from opioid overdoses.
What Causes an Opioid Addiction?
Addiction is caused by both genetic vulnerability and environmental opportunity, and as with any drug, it is a complex issue. An individual with an opioid use disorder may never develop one if he or she is never exposed to an environment that encourages opioid use.
Genetics
The National Institute on Drug Abuse (NIDA) reports that individuals with relatives who abuse opioids are more prone to abusing the substance themselves. In this study, 60 percent of families with at least two family members who used opioids were randomly selected. According to NIDA, this suggests a family connection to opioid abuse. Family members with opioid addictions were found to have certain genetic markers as a result of genetic scanning.
Environment
Having an opioid use disorder is not purely genetic; environmental factors can also increase one's risk. Children who grow up in homes with opioid users are more likely to become opioid users themselves, as are people who live in areas where opioids are frequently used. People who are exposed to chronic stress, such as violence, high unemployment, and poverty, are also more likely to become opioid users. Even patients on opioid painkillers who have a prescription might develop an opioid addiction.
Other Risk Factors
Experiencing an accident, surgery, injury or other medical issue requiring a prescription for opioid painkillers
A family history of mental illness or addiction
Personal history of substance use disorders or mental illness
Trauma
Poverty
Stress,
Low socioeconomic status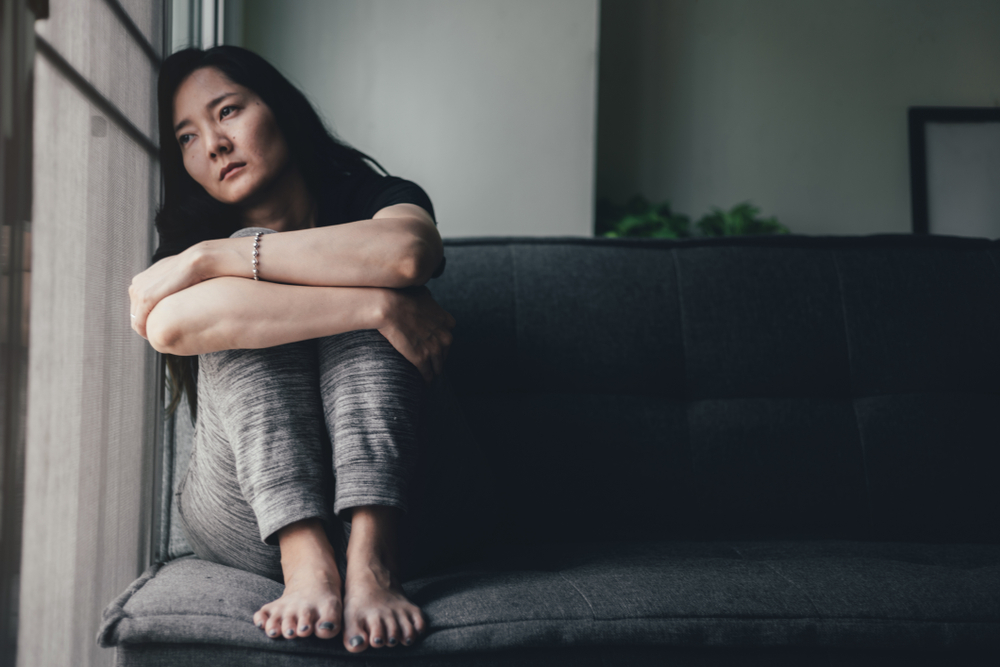 Signs of an Opioid Addiction
Early on in the course of opioid addiction, people are often able to conceal their habit. However, as the addiction progresses, certain symptoms and signs of an opioid addiction manifest in their lives. Although specific opioids result in specific indicators of abuse, certain universal indicators are listed below:
Behavioral
Behavioral signs of opioid addiction include long-term use of opioids, visits to numerous doctors' offices for pill prescriptions, weak performance at work or school, ignoring obligations and responsibilities, and using opioid substances in dangerous situations like driving. Other behavioral signs include unexplained periods of absence, isolating oneself, and stealing medications or money from others.
Physical
Slow thought and physical movement reduction, lack of sleep and sleep problems, mental tension, anxiety, emotional distress, restlessness, drowsiness, and pupil constriction are all physical signs of opioid addiction and abuse. Other physical signs include:
Changes in appearance
Weight loss or gain
Poor personal hygiene
Track marks
Impaired motor skills
Vomiting and diarrhea
Cognitive
Impairments in judgment, continuous opioid cravings, memory impairment, attention and focus issues, and suicidal tendencies are all common cognitive symptoms in those addicted to opioids. Feelings of detachment from others and surroundings is also a sign of opioid abuse.
Psychosocial
Those struggling with opioid abuse or addiction can experience a wide range of symptoms, including depression, anxiety, social withdrawal, excessive elation, and a decrease in interest in activities they once enjoyed.
Effects of Opioid Abuse and Addiction
Opioids cause shallow or reduced breathing, which can result in a lack of oxygen reaching the brain and other body systems. Even when taken as a prescription, larger doses of opioid drugs can cause drowsiness or lethargy. People who take opioids may have difficulty concentrating due to drowsiness or for other reasons. Large doses of heroin cause a condition known as "nodding," where a person nods off and regains consciousness after the initial heroin rush wears off.
Physical dependence, addiction, overdose, and even death may occur as a result of the continual abuse of opioids. Because the body eventually adapts to the presence of the opioid, a higher dose will be required to achieve the same effects that were initially experienced. Whether it's to manage pain or abuse the drug, stronger and stronger doses are required to achieve the effects initially experienced when first using the drug.
Withdrawal symptoms may occur if the use of opioids is decreased or ceased. The body stops producing its own opioids when opioids are no longer given to it. Since the brain is so used to receiving opioids, it struggles to readjust when they are no longer available. These unpleasant symptoms include muscle and bone pain, restlessness, diarrhea, insomnia, cold flashes, goosebumps, and vomiting.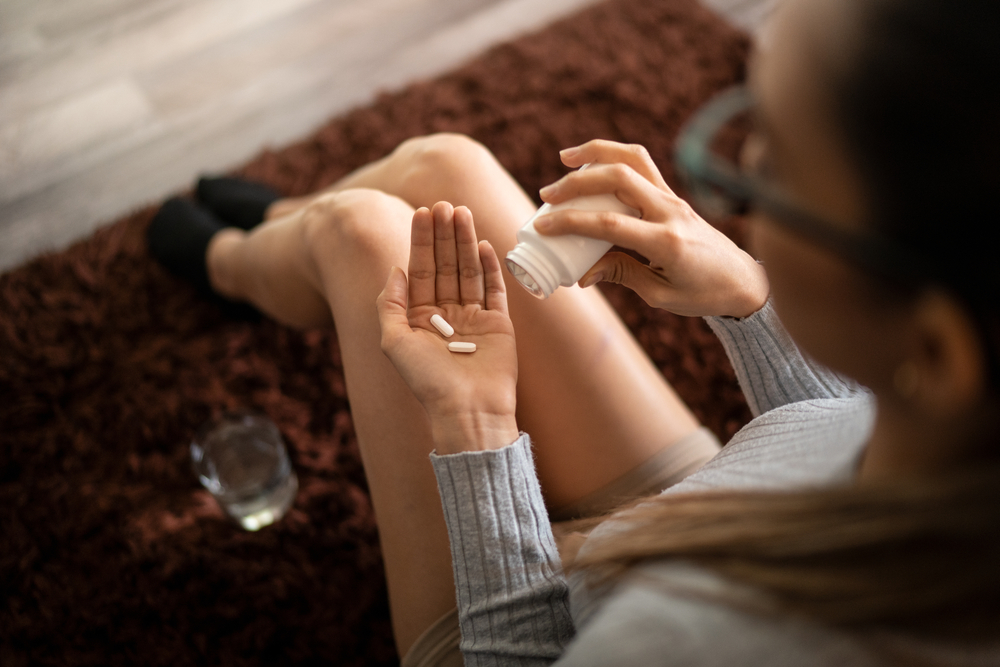 Opioid Addiction and Co-occurring Disorders
A substance abuse problem is also a mental disorder, so anything related to drug addiction will also impact a person's mental health. Opioids, like all drugs, affect the brain in fundamental ways.
Although harmful consequences occur due to drug abuse or repeated substance use, these situations do not include compulsive tendencies, tolerance (requiring higher doses to achieve the initial effect), or withdrawal (symptoms that addicts experience when they discontinue using the drug), which are behavioral indications of addiction. The hierarchy of a person's needs and desires is reversed as they develop new priorities when they become addicted. Controlling their impulses becomes more difficult, and procuring and using the drug becomes their most critical objective, with serious behavioral changes.
There is a strong association between opioid addiction and mental health problems such as schizophrenia, anxiety, bipolar disorder, post-traumatic stress disorder, and bipolar disorder. Dual diagnosis refers to a patient who has both substance abuse and mental health issues, and it's critical that these be treated together. If rehab clinics ignore mental health disorder symptoms, a patient may be unable to become clean and sober. Conversely, if substance abuse issues go untreated, mental health treatment will be void.
Preventing Opioid Addiction
If you or a loved one are worried about opioid addiction after using opioid drugs for pain management, you can take certain steps to avoid developing an addiction. Being aware of your choices prior to taking pain medicine is an excellent starting point.
According to the Centers for Disease Control and Prevention (CDC), you should begin by working with your doctor to develop a pain-management plan that considers all options (including opioid alternatives) and their side effects. You should also discuss your concerns with your doctor in an honest manner.
It is crucial to emphasize that other options for opioids are available. For example, ibuprofen, a nonsteroidal anti-inflammatory drug (NSAID), has been shown to be an effective alternative for treating acute pain.
Physical pain can result in anxiety or depression, or even worsen those issues if they are already present. Prescribed drugs must therefore be continued. While you are taking opioids, you may also want to think about taking counseling sessions. However, there is not much hard data at this time, research indicates that acupuncture, relaxation techniques, and hyperbaric oxygen therapy might offer pain relief comparable to opioids.
Treatment for Opioid Abuse and Addiction
An opioid use disorder can be treated by a health care professional on an outpatient basis or through a residential rehabilitation facility. These settings may employ medications like methadone, buprenorphine, or naltrexone in conjunction with support programs that assist people in recovering.
Medical detox is the first stage of treatment, helping the patient rid their body of opioids. Withdrawal symptoms manifest within six to 24 hours after a person with a physical opioid dependence stops taking them, depending on the drug they have been taking. Opioid withdrawal symptoms may become more severe over the course of three days before beginning to improve. Unlike other substances such as alcohol or benzodiazepines, opioid removal is uncomfortable but rarely lethal. Methadone or buprenorphine may be provided to assist with symptoms and keep the individual secure.
The use of opioids contributes to a multitude of difficulties in a person's life. Counseling and behavioral therapy can assist an individual in identifying underlying thoughts and behaviors related to unhealthy opioid use and in learning how to counteract them. Group therapy, relapse prevention training, vocational and educational services, community-based and family-based support, mental health assessments, and other resources may be available in some treatment facilities to assist in maintaining sobriety.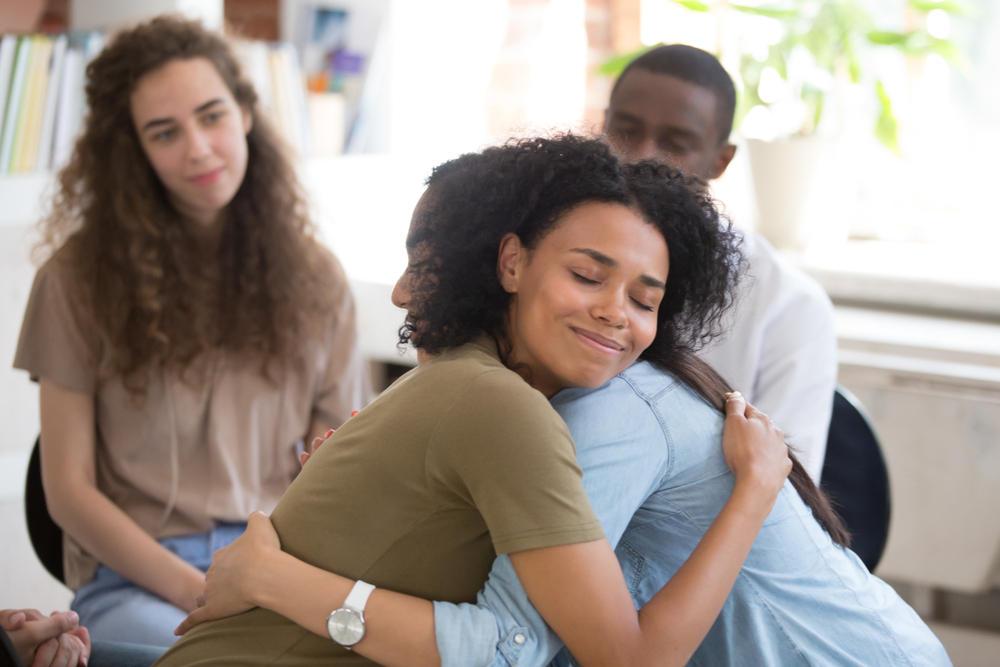 Opioid Addiction Treatment at Asheville Detox Center
With around-the-clock medical care, Asheville Detox Center in Asheville, North Carolina, can provide you with safety and comfort as you work to overcome your opioid habit. Additionally, we will assist you in understanding and overcoming opioid addiction using a variety of therapeutic methods. It's never too late to begin your recovery journey. Please contact Asheville Detox Center for more information about our services. We can help you get there.