How long does it take for shrooms to kick in? This is one of the most frequently asked questions regarding this hallucinogenic drug. To learn the answer to this and many other questions about magic mushrooms, including the risks of taking this drug, continue reading.
What Are Shrooms?
Magic mushrooms (also known as shrooms or mushrooms) are a kind of mushroom that contains psilocybin or psilocin, two chemicals that cause hallucinations. Powdered psilocybin can be snorted or injected as well as consumed in capsule form. Mushrooms can be eaten raw or cooked in either fresh or dried form. Psilocybin can also be steeped into tea, mixed into cooked foods, or mixed into fruit juice if powdered.
According to the Substance Abuse and Mental Health Services Administration (SAMHSA), psilocybin is one of the most well-known psychedelics. Psilocybin is a Schedule I substance, meaning it has a high potential for abuse and has no currently accepted medical use in treatment in the United States.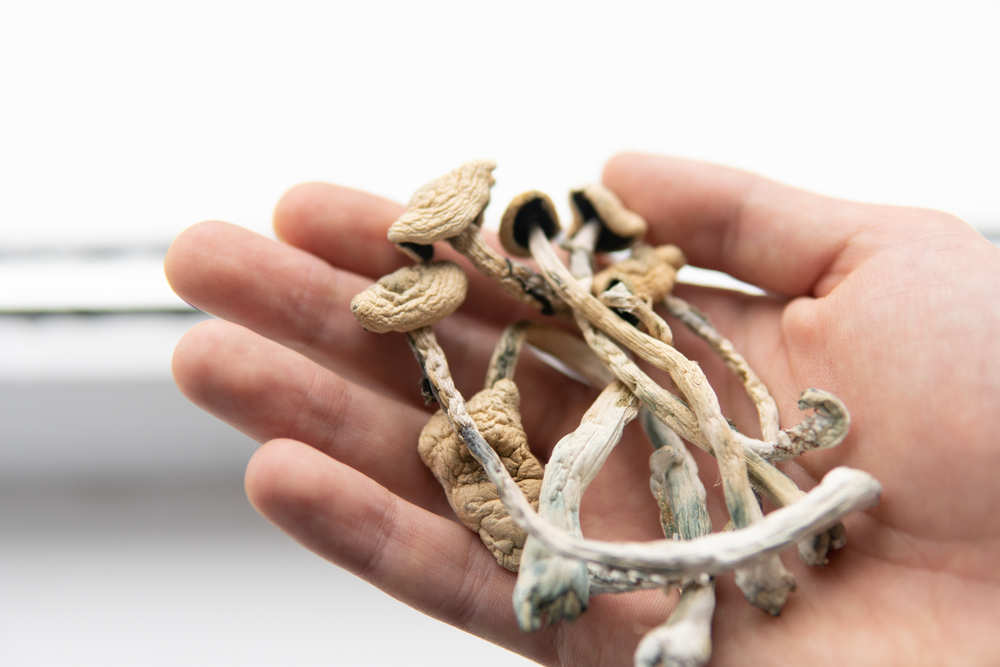 How Long Does it Take for Shrooms to Kick in?
What is the typical timeframe for shrooms to take effect? Shrooms aren't typically fast. The time it takes for shrooms to work normally ranges from 30 minutes to two hours. Your metabolism, how much food you've eaten recently, the amount of shroom material you ate, and whether or not you have drugs in your system at the time you consume them all affect the timeframe. Some people believe that shrooms will work faster when taken on an empty stomach than if taken with food.
Eating vs. Smoking Shrooms
It is true that you may smoke shrooms, but whether you will obtain the psychedelic effects from them is another question. Shrooms may be ground into a powder and smoked in a pipe either alone or mixed with tobacco or cannabis. People also put psilocybin-purified purified crystals into pipes. Neither of these choices, however, is a good one.
There are those who say that smoking mushrooms produces a mild high, but nothing like a trip you would get from popping caps or drinking a tea preparation. Most others, however, believe that it is a total waste of time with no effects whatsoever, aside from some nausea. The reason why there are no psychological effects may be due to temperature. Since psilocybin degrades at high temperatures, simply lighting shrooms up kills the active ingredient that causes psychedelic effects.

Do Shrooms Kick In Faster On An Empty Stomach?
The duration of time it takes you to begin feeling the effects of shrooms is determined by what you have in your stomach. Your digestive system may delay the beginning for as much as an hour if you eat shrooms immediately after a meal, depending on what you ate, how much you ate, and how quickly your system processes food.
Within ten minutes of consuming psilocybin-containing shrooms, your stomach will begin to break down and transform them into psilocin so that you can start feeling their effects. Since there is nothing else in your stomach to compete with the shrooms, you can begin to feel the effects right away. Unfortunately, shrooms are known to be tough on the stomach, and consuming them raw on an empty stomach may increase the feeling of nausea or vomiting.
How Long Does It Take Shrooms To Kick In On A Full Stomach?
If taken on a full stomach, shrooms could take up to two hours to take effect. Some individuals may also experience a variety of reactions to psilocybin after eating magic mushrooms on a full stomach. The experience may be less intense, but it may also help to prevent nausea or stomachaches. Having ginger or another digestive aid may assist with an upset stomach. Eating too much prior to taking psilocybin may make the experience even more unpleasant. It's recommended to eat a small, healthy meal before ingesting psilocybin to minimize any adverse consequences.
Other Factors that May Influence How Long it Takes for Shrooms to Kick In
There are a lot of factors that impact how quickly shrooms kick in, and knowing them all can help you avoid taking too much and suffering from a bad trip or harmful physical consequences. Factors include:
Method of Consumption
The manner in which you consume shrooms can drastically alter once you begin to feel the effects. Most individuals eat shrooms alone or with food to mask the flavor. Generally, the effects manifest within 30 to 60 minutes after ingestion. Some people prefer to brew shroom tea. Because liquids move through the digestive tract faster than solids, shroom teas can begin to have an effect within 10 to 20 minutes.
Body Weight
It's true: the amount of shrooms you eat might affect how fast you feel their effects. A large person might only experience mild peak effects and a slower onset of effects. You might not notice anything for an hour and a half, at which point the peak effects begin to kick in.
Mushroom Species
There are many types of "magic mushrooms," and each one has different amounts of psilocybin and psilocin. Remember, psilocin is the substance that produces the psychedelic experience, whereas psilocybin must be converted into psilocin by the body in order to work. Because the psilocybin and psilocin digestion process is primarily responsible for delaying the effects, consuming mushrooms with higher levels of psilocin will more than likely produce a more immediate experience.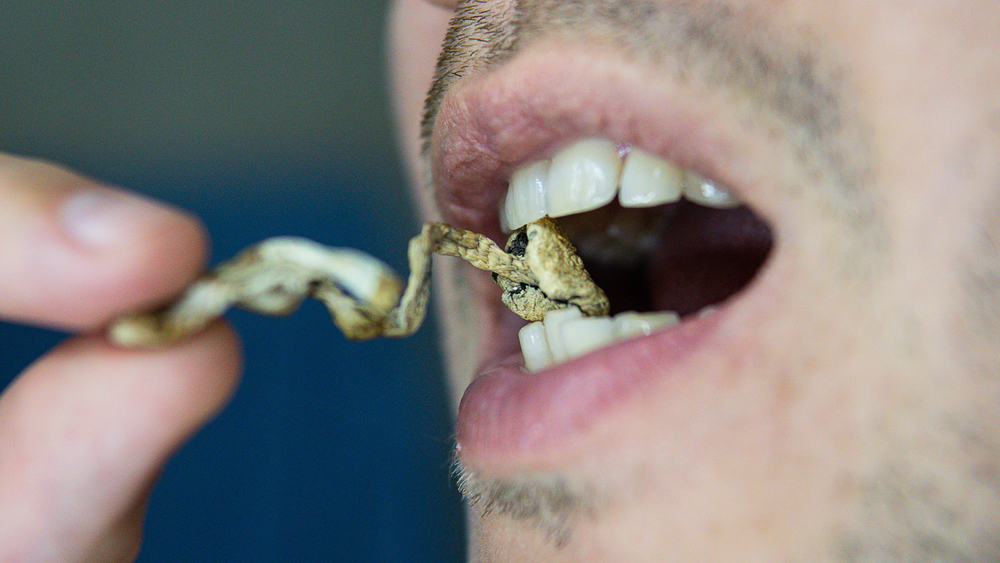 How Long Should You Wait Before Doing More Shrooms
The last thing you want when taking shrooms is to have a poor trip or an unanticipated, overwhelming experience. Psilocybin is a fairly potent psychedelic drug, and taking more than your optimal dose will almost certainly result in a negative experience. There are a lot of accounts on the internet of users – particularly new users – taking shrooms and not noticing any effects after an hour, then taking more. It all hits at once.
The best method is to wait 24 hours before taking a second dose of psilocybin after your initial dose. This guarantees that the doses won't stack and produce a negative experience. If you're itching to experience your first trip and you don't think your initial amount is sufficient, wait at least two hours before taking more to minimize the risks.
What Is the Duration of Shroom High?
The duration of shroom trips usually stretches from 3 to 6 hours, but some individuals may experience effects for much longer. During your trip, you may experience some lingering repercussions that last into the next day. The amount of shrooms you consume, the type of mushroom, how they are eaten, your age, your tolerance, and other substances you may have taken are all factors that may affect the length and severity of the effects.
How Long Do Shrooms Last & Stay In Your System?
The variety of drug tests out there makes it challenging to answer this question. Some are a lot more sensitive than others. In general, most common drug tests cannot detect shrooms, although more specialized ones might. The detection times differ from test to test as well. Shrooms don't usually appear on common drug tests, but they do not appear in blood or saliva tests unless they are administered within a few hours of ingestion (unless they are administered within a few hours of ingestion, shrooms do not appear on common drug tests).
Urine Test
A urine test is the most common type of drug test. However, shrooms are usually undetectable by urine drug tests because the body eliminates them within 24 hours.
Hair Test
Tests of hair follicles can determine whether someone has taken magic mushrooms in the previous 90 days, but this sort of testing is not widespread because it is costly.
Saliva and Blood Tests
Because shrooms are metabolized quickly, they will not appear on a blood or saliva panel unless a test is administered almost immediately.
What to Expect While Tripping on Shrooms
Magic mushrooms are hallucinogenic substances, resulting in visual, auditory, and tactile sensations that seem authentic but aren't. Because the effects of magic mushrooms are highly variable and thought to be influenced by environmental factors, they can cause hallucinations. Eating shrooms can lead to a range of responses, from calmness to severe hallucinations and panic, based on the amount consumed. Side effects include:
Euphoria
Visual and auditory hallucinations
Altered sense of time and space
Paranoia
Anxiety
Dilated pupils
Nausea
Headaches
Increased heart rate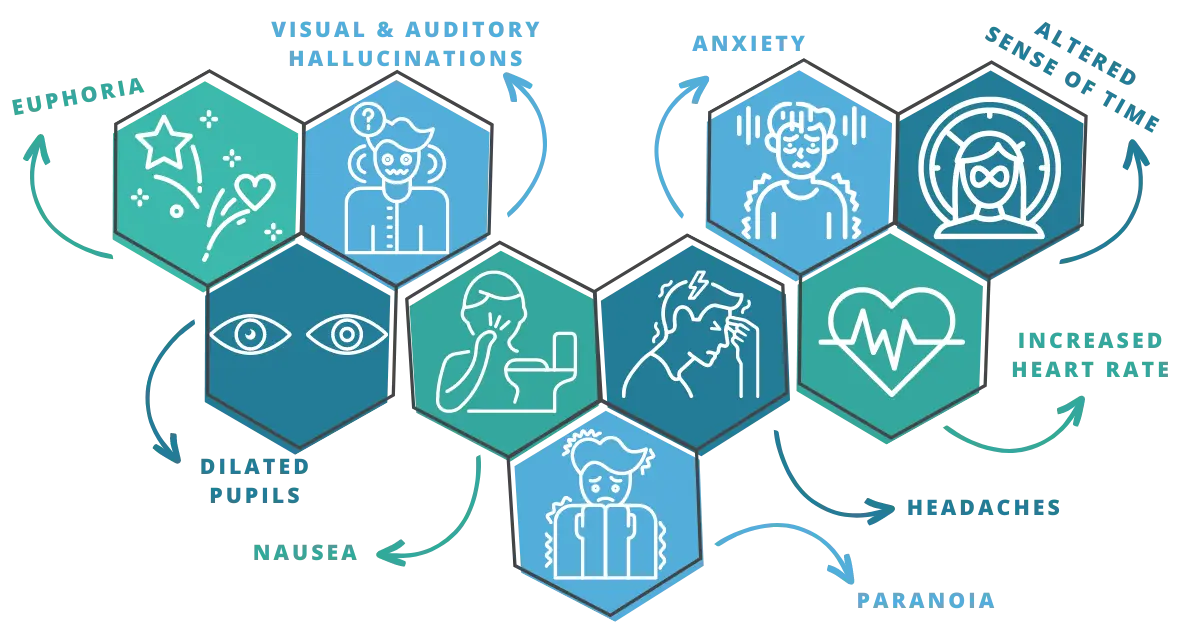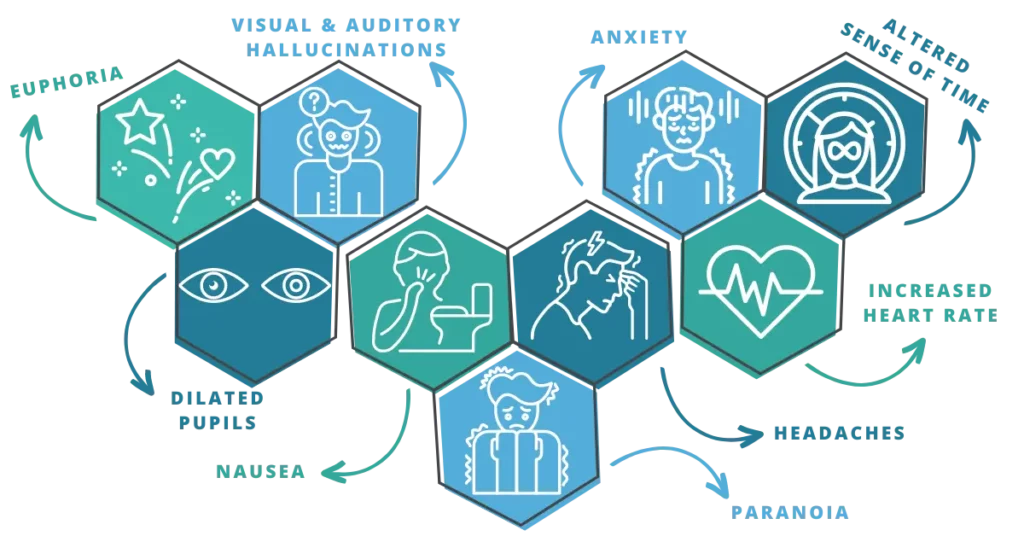 Risks of Taking Shrooms
All hallucinogens can cause mental and emotional problems as well as accidents when consumed. Combining magic mushrooms with alcohol and other substances is common among adolescents, which heightens both psychological and physical risks. Magic mushrooms have been known to cause convulsions in the worst-case scenario. While psilocybe mushrooms are typically sought after for their mellow effects, shrooms may cause anxiety, frightening illusions, paranoia, and confusion in some. Magic mushrooms are often connected to what is known as a "bad trip" in hospital admissions.
How to Know if You Have a Shroom Problem
It is unknown if magic mushrooms are addictive. Addiction occurs when a person becomes dependent for a variety of reasons. Regular use might lead a person to develop a craving for magic mushrooms. In some cases, people may choose to combine psilocybin mushrooms with LSD in order to create a unique effect. Because of this, psilocybin mushrooms are more likely to produce a psychological addiction than a physical one.
Using magic Mushrooms can lead to addiction, as well as problems functioning in the real world. Users may become hooked on the altered state of mind that psilocybin mushrooms provide, and they might continue to use them to maintain this state. Some magic mushroom users experience memory loss and flashbacks as a result of hallucinogenic drug use. Fatigue and irritability may also result. The following are signs that you or a loved one's mushroom use may have become problematic:
Inability to quit
Using mushrooms in secrecy
Stealing or borrowing money
Experiencing withdrawal-like symptoms if use is abruptly stopped
Mood swings
Neglecting responsibilities
Legal issues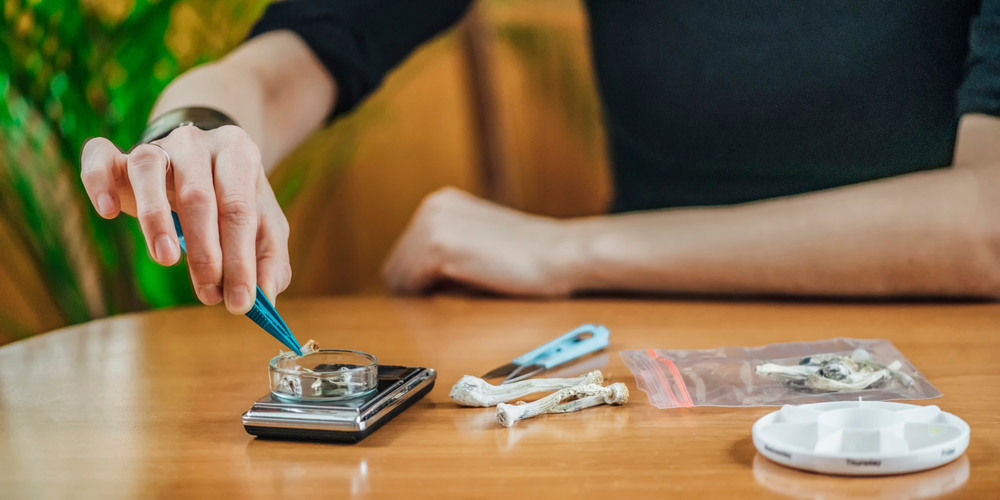 Asheville Detox is Here to Help with Addiction
The Asheville Detox Center specializes in providing the finest medical detox care. We begin where you are and provide medical detox services that are both safe and comfortable. We provide comprehensive care throughout the entire detox procedure to those who seek our assistance.
We help those struggling with mushroom addictions withdraw in a medically supervised environment, which minimizes the risk of adverse consequences. Withdrawal side effects are monitored by medical professionals in a clinical setting, which is why clients may feel secure and comfortable while detoxing. Our firm offers a wide range of services and programs.
To get the greatest help, call the professionals at the Asheville Detox Center today. Because magic mushroom addiction is dangerous if left untreated, don't delay seeking assistance any longer. We are here for you.