Illicit drugs, like fentanyl or heroin, have been known to destroy and change lives across the world. With more states legalizing or decriminalizing drugs in recent years like cannabis and psilocybin mushrooms, people still have questions about why these drugs are illegal in the first place.
In this article, you'll learn more about illicit drugs, how they differ from controlled substances, and how they're classified based on chemical makeup, effects, and legal status. By understanding these factors, we can better understand the dangers of drug use and the importance of prevention and treatment efforts.
What Are Illicit Drugs?
Illicit drugs are substances that are illegal to possess, manufacture, distribute, or use under federal law. Examples of illicit drugs include heroin, cocaine, cannabis, and methamphetamine.
These drugs are often manipulated and adulterated by dealers and manufacturers to cut costs and spread products out, resulting in inconsistent potency and dangerous additives. For example, cocaine is often cut with other substances like talcum powder or baking soda, while opioids like heroin are sometimes mixed with other drugs like fentanyl, increasing the risk of overdose and death.
Another unique feature of illicit drugs is how their legal status varies between different countries and regions. Certain drugs may be decriminalized or even legal for personal use in some areas, while in others, they are subject to strict penalties and enforcement. For example, while cannabis is legal in several states across the US for medical and recreational use, it is still federally classified as an illicit drug.
How Are Illicit Drugs Classified?
Some illicit drugs are considered "controlled substances" and are categorized into schedules based on their potential for abuse, medical use, and safety. Examples of controlled substances include prescription medications like opioids, stimulants, and sedatives, as well as some illicit drugs like MDMA (molly/ecstasy) and LSD. Here's how illicit drugs are classified.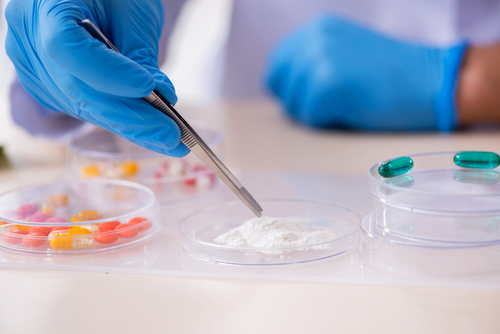 Chemical Makeup
Grouping drugs based on similar chemical structures allows health professionals and emergency response teams to create treatment plans based on their comparable effects and risks. Someone addicted to a particular drug may also misuse other chemically similar drugs. Similarly, the same treatment method may be effective for multiple chemically similar drugs.
Alcohol: Alcohol is the number one abused substance and is legal to some extent in all 50 states. While it induces euphoria and reduces inhibitions, it significantly impairs judgment, perception, and reaction times.
Opioids: Opioids, also known as opiates, are either derived from opium or chemically synthesized to mimic its effects. By targeting receptors in the brain and mimicking the effects of neurotransmitters, opioids can act as potent painkillers, induce feelings of intense pleasure, and lead to addiction. Some of the commonly known opioids include heroin, fentanyl, and oxycodone.
Benzodiazepines: Benzodiazepines, also known as "benzos," are drugs that interact with the neurotransmitter gamma-aminobutyric acid-A (GABA-A). Although prescribed for various psychiatric and sleep conditions, they are frequently misused, highly addictive, and can result in multiple medical and psychiatric issues when not taken as prescribed. Examples of benzos include Ativan, Valium, and Xanax.
Cannabinoids: Cannabinoids are drugs that share a similar chemical structure with delta-9 tetrahydrocannabinol (THC), the active component in marijuana. They can produce a sense of euphoria or "high" but also negatively affect mental and physical performance. Despite being less addictive than other drugs, they are number second most used substance after alcohol. Some examples of cannabinoids include marijuana and hashish.
Barbiturates: Barbiturates are drugs that suppress the central nervous system by decreasing its activity. Chemical derivatives of barbituric acid, barbiturates have been used to treat psychiatric and sleep disorders, as well as epilepsy and headaches. Although still used for anesthesia, they are highly addictive and pose a severe risk of overdose since they can cause multiple organ systems to shut down. Examples of Barbiturates are Amytal, Luminal, and Phenobarbital.
Amphetamines: Amphetamines are stimulant drugs that increase central nervous system activity and are usually prescribed to treat attention deficit hyperactivity disorder (ADHD) and narcolepsy. Amphetamines are highly addictive and can cause various physical and mental health problems, including heart and brain damage, anxiety, and depression. Some examples of amphetamines include Adderall and Dexedrine.
Synthetics: Synthetic drugs are manufactured chemical compounds designed to mimic the effects of "naturally" occurring drugs, such as marijuana or cocaine. These drugs are created in clandestine laboratories and are designed to produce similar effects to illegal drugs but with a slightly different chemical structure. They are often marketed as legal or safe alternatives to illegal drugs and are sold under various brand names, such as Spice, K2, or bath salts. Synthetic drugs are very dangerous and have serious health consequences, including overdose and death.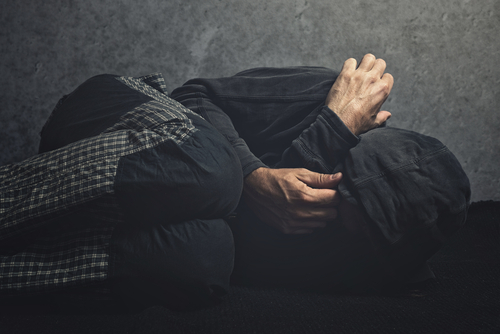 Effects
Illegal drugs are also classified by their effects on the mind and body. Some substances tend to increase a person's activity level and induce feelings of energy, while others promote relaxation and calmness.
Depressants: Depressants, also known as "downers," induce relaxation and drowsiness. Despite their legitimate use for treating sleep disorders and mental health conditions, they are frequently abused for their potential to create euphoria. Depressants are extremely addictive and pose a high risk of overdose. The most common depressants include alcohol, opiates, and barbiturates.
Stimulants: Stimulants, commonly called "uppers," are drugs that enhance energy, wakefulness, and concentration. They can produce a euphoric "rush" and temporarily improve performance and productivity. However, long-term use of stimulants is highly addictive and carries a high risk of abuse. Examples of stimulants include Adderall, cocaine, and meth.
Hallucinogens: Hallucinogens distort the user's perception of reality, leading to auditory and visual hallucinations, commonly known as "tripping." Although less addictive than other drug types, they can have immediate, severe, and dangerous effects. Examples of hallucinogens are LSD, psilocybin mushrooms, and PCP.
Inhalants: Inhalants encompass various chemicals typically inhaled or "huffed." Although most of these substances are not intended for human consumption, they are known to produce a "high." Using inhalants can result in severe health problems despite being less addictive. Examples of abused inhalants include gasoline, paint thinner, and nail polish remover.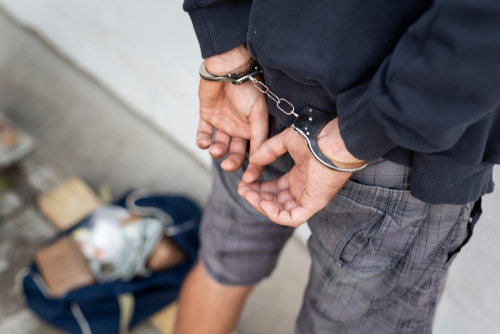 Legal Status
In 1970, the United States Government and DEA enacted the Controlled Substances Act to address the rise of drug abuse and control or tax existing substances. The Act categorized drugs into five schedules based on their medical benefits, potential for addiction, and abuse. However, some drugs are classified in specific schedules due to international treaties, such as the Single Convention on Narcotic Drugs formed by the United Nations in 1961.
Schedule V: Schedule V drugs are the least regulated and have the lowest penalties of all federal drug classifications. They have a recognized medical use, lower potential for abuse than Schedule IV drugs, and lower potential for addiction. Some examples of Schedule V drugs include cough prescriptions like Parepectolin, Lomotil, Motofen, and Lyrica.
Schedule IV: Schedule IV drugs have an accepted medical use, a low potential for abuse, and a low potential for addiction. Examples of Schedule IV drugs are Ambien, Darvocet, and Tramadol.
Schedule III: Schedule III drugs have a moderate or low potential for addiction, a legitimate medical purpose, and lower abuse potential than Schedule I and II drugs. Examples of Schedule III drugs include Vicodin, ketamine, and anabolic steroids.
Schedule II: Schedule II drugs have the most stringent regulations and penalties of all drug classifications except Schedule I. These drugs have a recognized medical purpose but also have a high potential for abuse and a severe risk of dependence. Schedule II drugs include Ritalin, Codeine, and Methadone.
Schedule I: Schedule I drugs are subject to the most stringent regulations and severe penalties among all drug classifications. These drugs have a high potential for abuse and have no accepted medical use according to federal laws. Examples of Schedule I drugs are Heroin, Ecstasy, lysergic acid diethylamide (LSD), Cannabis, Mescaline (Peyote), and Psilocybin (shrooms).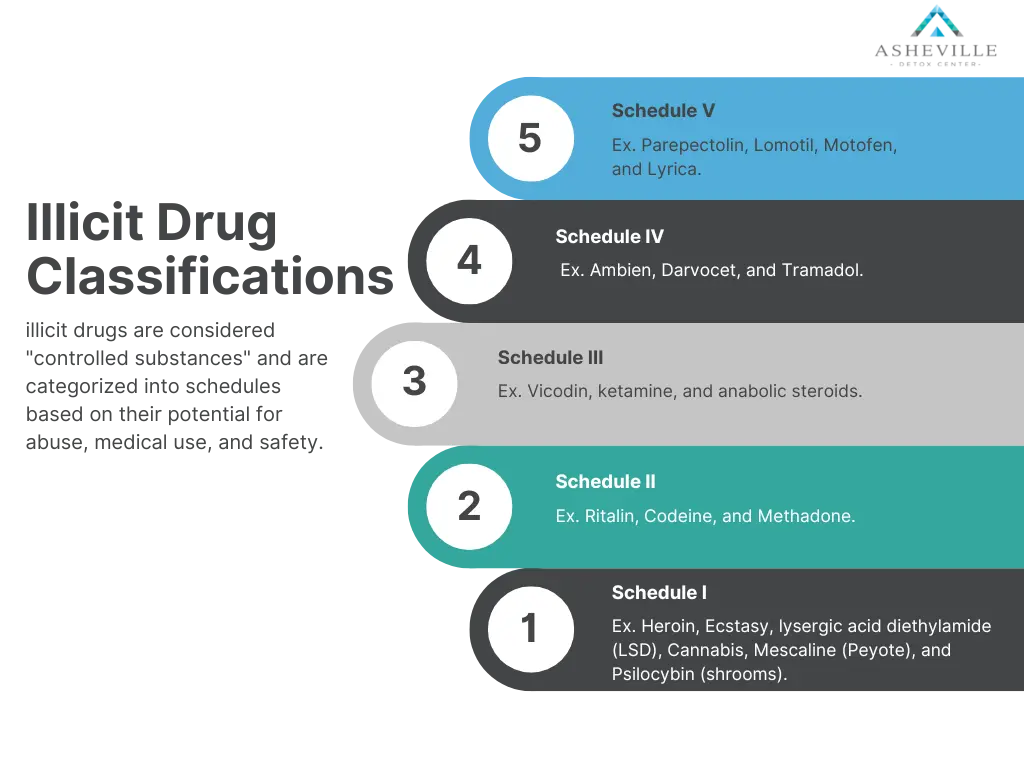 Contact Asheville Detox Center
If you or someone you know is struggling with illicit drug addiction, contact Asheville Detox Center. Detox is the first step toward recovery and wellness, and our treatment center is equipped with the tools and methods you need to overcome substance use. Contact us today and learn more about the detox process, how our experienced professionals can help, and how to sign up.