Detoxification from fentanyl is a complex and challenging process. With its highly addictive nature and intense withdrawal symptoms, understanding the length of time for detoxification is crucial for individuals seeking recovery. While this length of time can fluctuate from person to person, it is essential to understand how long it can take to detox from fentanyl and begin addiction recovery treatment fully.
In this article, we will cover what fentanyl is, what fentanyl detox is, the timeline for detoxing, and how to detox from fentanyl safely.
What is Fentanyl?
Fentanyl is a synthetic opioid that is prescribed to individuals experiencing severe pain. Due to its potency, fentanyl can be highly addictive, making it common for individuals to misuse it. According to the National Institute on Drug Abuse, there were over 106,000 reports of fentanyl overdoses in 2021. While fentanyl is similar to morphine, it is about 50 to 100 times stronger, making it much easier for those using it to overdose. However, long-term use of fentanyl can result in opioid dependency, leading to severe withdrawal symptoms and side effects.
Read More: Signs of an Opioid Addiction: Everything You Need to Know
Side Effects of Fentanyl
Fentanyl use of any kind is hazardous due to its potency. It is also common to see illegal fentanyl being put into other drugs, such as marijuana, MDMA, cocaine, or heroin, to increase the dosage for a low price. This leads to individuals consuming fentanyl unknowingly, causing severe side effects, and the overdose risk significantly increases. Knowing what these side effects are is essential in preventing fentanyl overdose. Some of the most common side effects include:
Feelings of euphoria
Nausea or vomiting
Reduced appetite
Confusion
Slurred speech
Headache
Lowered blood pressure
Hallucinations
Seizures
Death
What is Fentanyl Detox?
Fentanyl detox is a withdrawal process that reduces cravings and withdrawal symptoms for those who want to stop using fentanyl and begin recovery. As fentanyl is an opioid, it is common to see individuals going through opioid withdrawal and then returning to drug use due to the severity of discomfort they experience. Detox should take place at an addiction treatment center or drug rehab center to ensure the proper support and care are being given.
When detoxing from fentanyl, certain medications can be used to help relieve withdrawal symptoms so that individuals can experience a comfortable recovery from opioid dependence. These medications include FDA-approved medications that include buprenorphine, methadone, or suboxone. As the medical professional monitors the individual's progress in detox, they will gradually reduce the dosage of the medications until the individual is no longer dependent on fentanyl.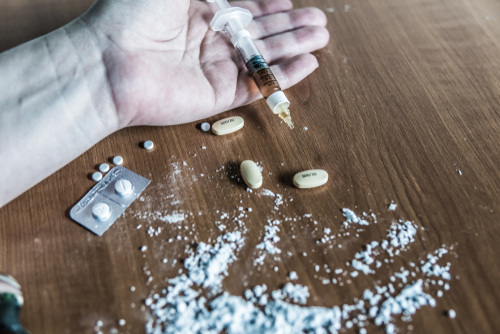 How Long Does it Take to Detox From Fentanyl?
The length of time it takes for an individual's body to fully detox from fentanyl can vary from each person. Many factors can affect the withdrawal symptom severity, such as the amount of fentanyl used, the frequency of use, and the potency of fentanyl used. Generally, fentanyl detox can be divided into three stages. These three stages are:
Acute Withdrawal Stage: The initial phase of fentanyl detox involves the onset of withdrawal symptoms. These symptoms can start within hours of the last dose and typically peak within the first few days. This stage lasts about a week, but the severity and duration of symptoms can vary.
Subacute Withdrawal Stage: After the acute withdrawal stage, individuals may enter the subacute withdrawal stage. During this phase, physical symptoms gradually subside, but psychological symptoms such as depression, anxiety, irritability, and mood swings may persist. The length of the subacute withdrawal stage can vary widely, ranging from a few weeks to several months.
Post-Acute Withdrawal Stage (PAWS): In some cases, individuals may experience a protracted withdrawal phase known as Post-Acute Withdrawal Syndrome (PAWS). PAWS can occur after the acute and subacute withdrawal stages and is characterized by intermittent waves of symptoms that come and go. Depending on how much an individual uses fentanyl, PAWS can persist for several months to a year.
Fentanyl Withdrawal Symptoms
Symptoms of fentanyl withdrawal can be intense and challenging to endure and can require medical support when detoxing. These withdrawal symptoms occur when an individual who is physically dependent on fentanyl abruptly reduces or stops its use. While a variety of factors can affect how severe these symptoms are, there are some common symptoms you can expect to experience. Here are the most common fentanyl withdrawal symptoms:
Nausea
Increased heart rate
Muscle or bone pain
High blood pressure
Insomnia
Anxiety
Increased body temperature
Sweating or chills
Fentanyl withdrawal symptoms typically peak around 36 to 72 hours after the last use and can continue for 7 to 10 days or even a few weeks. While medications such as methadone or buprenorphine can alleviate some of the withdrawal symptoms, it is best to detox from fentanyl under medical supervision.
Learn More: How Long Do Opioids Stay in Your System?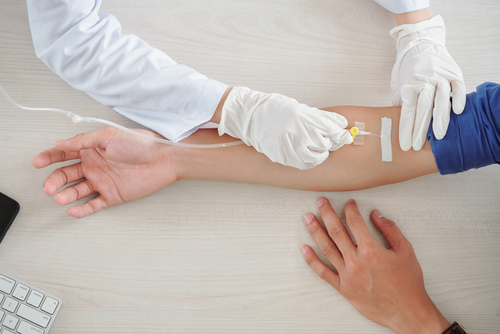 How Can You Safely Detox From Fentanyl?
Although the effects of fentanyl can be experienced after only one use, they can also be part of a bigger opioid addiction or substance use disorder. When an individual is suffering from fentanyl addiction, they can experience opioid dependence, resulting in the need for extensive rehabilitation. While most individuals benefit from medically supervised detox, it should be followed up by further treatment to address the underlying causes of the addiction. Some of the most common treatment options to safely detox from fentanyl include:
Medical Supervision: Detoxification from fentanyl should be conducted under the care and support of medical professionals experienced in addiction. Medical detox allows these professionals to monitor vital signs, manage withdrawal symptoms, and provide medical interventions if necessary.
Medication-Assisted Treatment: As mentioned previously, medications may be prescribed to manage withdrawal symptoms and cravings during fentanyl detox. For example, buprenorphine or methadone, both opioid agonists, can help reduce withdrawal symptoms and cravings, allowing for a smoother and more comfortable detox process.
Behavioral Therapies: Behavioral therapies, such as cognitive-behavioral therapy or experiential therapy, are typically part of a treatment plan to help identify and assess the underlying causes of addiction. These therapy sessions are conducted after an individual successfully goes through detox to continue on their recovery journey. While you may not have the option for these therapies at a detox facility, many addiction treatment centers provide inpatient or outpatient services.
Aftercare Support: After completing an inpatient or outpatient treatment program, individuals may continue attending therapy sessions or support group meetings. Treatment centers can provide this aftercare support to encourage individuals to continue their recovery.
Fentanyl Detox at Asheville Detox Center
Experiencing fentanyl addiction can be overwhelming and cause negative consequences throughout an individual's life. When deciding to seek recovery, the first step is fentanyl detox. As explained above, fentanyl detox can be a long and intense process, but finding the right treatment center and program can help ensure the process goes smoothly.
At Asheville Detox Center, we provide comfort, safety, and evidence-based treatment to anyone needing medical detox services. On top of medical detox services, we also offer medication-assisted treatment and aftercare support to ensure all of our clients receive the care they need every step of the way. One of our specialties is opioid detox, with our highly trained medical staff fully understanding the detox process and how to best care for you.
If you or a loved one are seeking substance abuse treatment or suffering from addiction, contact us today to learn more about our services.
Reviewed By A Specialist In The Field