Opioid Agonist Therapy (OAT) is a well-established treatment approach for individuals grappling with opioid addiction. By exploring the medications used, their benefits, and their potential side effects, individuals and healthcare providers can understand OAT and make informed decisions about its potential as a pathway to recovery.
In this article, we will discuss what OAT is, the medications used, the benefits of using OAT, and the potential side effects and risks of OAT.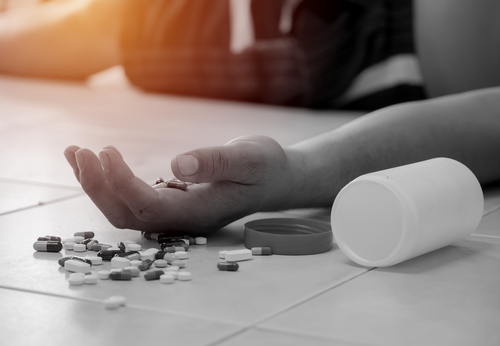 What is Opioid Agonist Therapy?
Opioid agonist therapy (OAT), also known as opioid replacement therapy or medication-assisted treatment, is an evidence-based approach used to treat addiction to opioid drugs such as heroin, oxycodone, fentanyl, and Percocet. It involves using specific medications that target the same receptors in the brain that opioids bind to. By doing so, OAT helps to alleviate withdrawal symptoms and reduce cravings, ultimately supporting individuals in their recovery journey.
Research published in the Cochrane Library Journal in 2009 shows that OAT can significantly reduce illegal opioid use and increase treatment retention rates compared to no opioid replacement therapy for opioid dependence. By providing a safer alternative to opioids, OAT plays a critical role in harm reduction and promoting the overall well-being of individuals in recovery.
Medication Used in Opioid Agonist Therapy
Medication plays a crucial role in OAT as it helps individuals manage withdrawal symptoms, reduce cravings, and maintain stability in their recovery from opioid addiction. There are three primary medications used in OAT: Methadone, buprenorphine (including formulations with naloxone such as Suboxone), and naltrexone. These medications can be classified as opioid agonists because of how they interact with the opioid receptors in the brain.
Methadone
Methadone is a long-acting opioid agonist medication that helps individuals dealing with opioid addiction and has been used for over 40 years. Administered orally in liquid or tablet form, it acts by binding to opioid receptors in the brain, effectively alleviating withdrawal symptoms and cravings. However, Methadone acts more slowly and doesn't cause the euphoric high associated with other opioids when taken at the prescribed doses. Dispensed through specialized programs to ensure safe usage, Methadone has proven effective in reducing illicit opioid use, enhancing treatment retention rates, and mitigating the risk of overdose.
Buprenorphine
Buprenorphine, frequently combined with naloxone (Suboxone), is a partial opioid agonist, meaning that it binds to the same opioid receptors as other opioids but has less intense effects. Because of this, buprenorphine exhibits a ceiling effect, where its effects plateau at higher doses, minimizing the risk of respiratory depression and overdose. The addition of naloxone to buprenorphine acts as a deterrent against misuse, inducing withdrawal symptoms if injected.
Learn More: Suboxone Vs. Subutex: Side Effects, Benefits, & Abuse Potential
Naltrexone
Naltrexone, an opioid antagonist, functions by occupying opioid receptors and blocking the effects of opioids without producing opioid-like effects or relieving withdrawal symptoms, unlike Methadone and buprenorphine. Naltrexone can be used orally or as a long-acting injectable known as Vivitrol. Typically utilized for individuals who have completed detoxification and are committed to abstaining from opioids, naltrexone has demonstrated advantages in diminishing opioid use, preventing relapse, and mitigating the risk of overdose.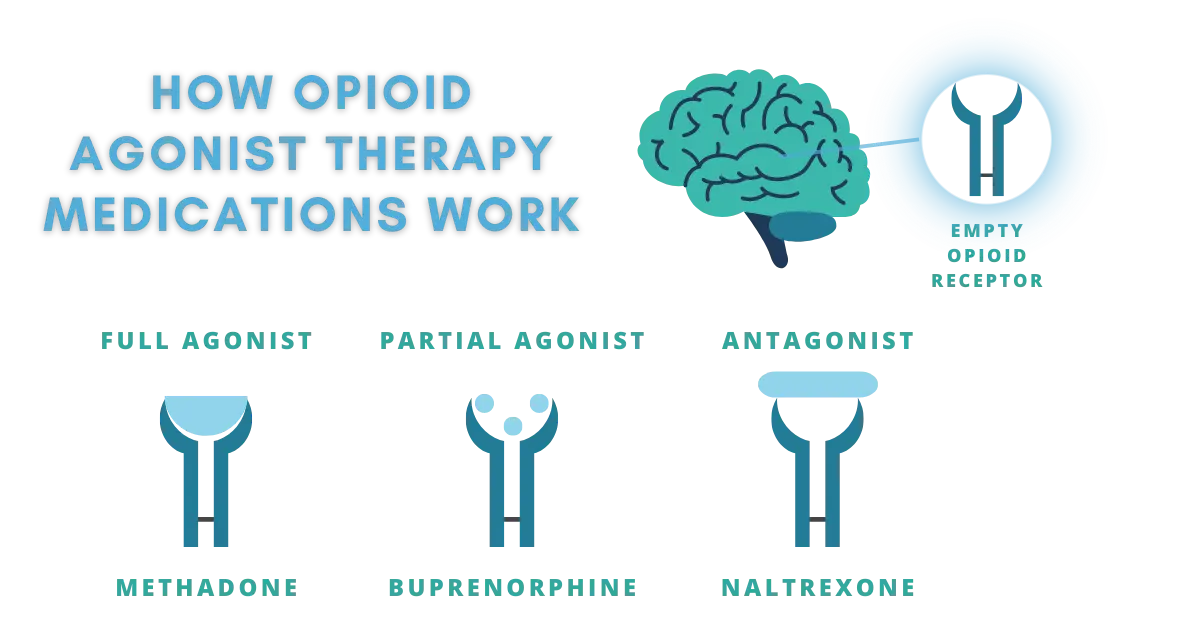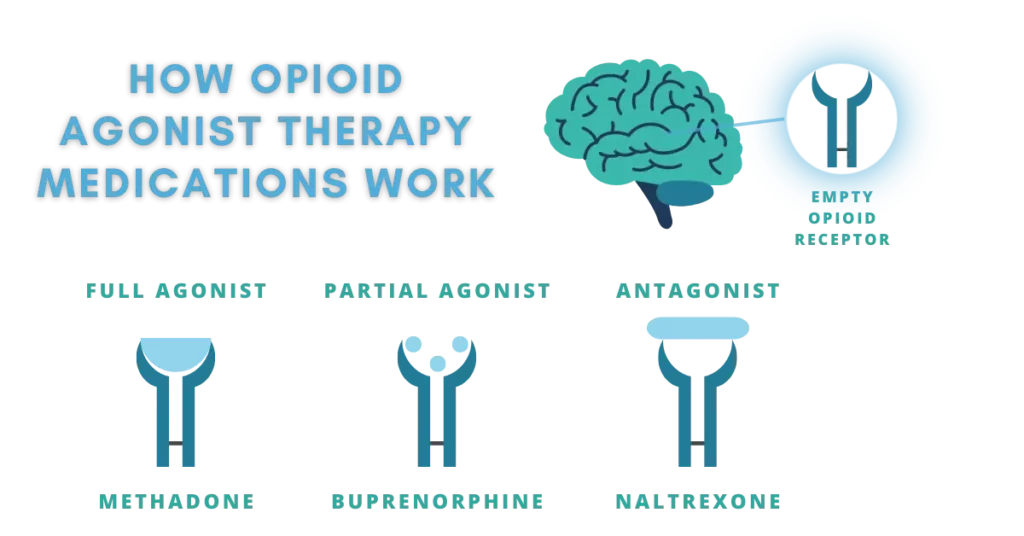 Benefits of Opioid Agonist Therapy
OAT offers several benefits, including reducing the risk of overdose and other dangers associated with using opioids. Some of the key advantages of OAT include the following:
Reduction in Opioid Use: OAT has consistently shown effectiveness in reducing the use of opioids such as heroin and other substances. By providing a safer and regulated alternative, medications used in OAT, such as Methadone and buprenorphine that are mentioned above, help individuals stabilize their lives and break the cycle of drug-seeking behavior.
Decreased Risk of Overdose: OAT is crucial in reducing the risk of overdose, a significant concern for individuals with opioid addiction. Medications used in OAT have a unique pharmacological profile that helps stabilize individuals, reduces the risk of respiratory depression, and prevents overdose. Research published in the New England Journal of Medicine highlights the substantial reduction, approximately 50%, in overdose-related death rates among individuals receiving OAT.
Increased Treatment Retention Rates: OAT has been associated with higher treatment retention rates than non-medication approaches. This increased treatment engagement improves the chances of successful recovery and long-term abstinence from opioids.
Improved Quality of Life: By reducing the chaotic and disruptive behaviors associated with opioid addiction, OAT provides stability, enabling individuals to rebuild relationships, maintain employment or educational pursuits, and engage in positive activities. This results in an improved quality of life for those dealing with opioid addiction. The comprehensive approach of OAT, which combines medication with counseling, aftercare support, and additional services, contributes to improved overall well-being.
Support for Long-Term Recovery: OAT provides a foundation for individuals to build a sustainable and long-lasting recovery from opioid addiction. By addressing withdrawal symptoms and reducing cravings, OAT gives individuals the stability and clarity necessary to engage in other aspects of recovery, such as counseling, therapy, and lifestyle changes. OAT helps individuals maintain abstinence, reduce the risk of relapse, and supports them in developing essential coping skills for long-term recovery.
Read More: Signs of an Opioid Addiction: Everything You Need to Know
Side Effects & Risks of Opioid Agonist Therapy
While OAT is an effective treatment for opioid addiction, it is essential to be aware of potential side effects and risks associated with the medications used. Some of the most common side effects and risks of OAT include:
Side Effects: While OAT does not have side effects, the medications used in OAT do. Although they are generally well-tolerated, some side effects that can be experienced are constipation, drowsiness, nausea, vomiting, sweating, dry mouth, and changes in sex drive. These side effects can be manageable and tend to diminish over time as the body adjusts to the medication.
Dependence & Withdrawal: Like many other opioids, the medication used in OAT can be misused, leading to physical dependence and withdrawal symptoms. When stopping the use of the medications, individuals may experience symptoms similar to opioid withdrawal, such as muscle aches, anxiety, insomnia, and sweating.
Safety Considerations: While OAT medications are safe when used as prescribed, certain precautions should be taken. Methadone, for instance, can potentially cause respiratory depression and cardiac arrhythmias if taken in high doses or combined with other sedating substances. Buprenorphine, on the other hand, has a lower risk of overdose due to its partial agonist properties. However, misuse can still occur if individuals attempt to overcome the effect by using higher doses of opioids.
Opioid Detox Services Available at Asheville Detox Center
Utilizing OAT as a treatment option for opioid addiction is a proven and effective way to overcome your addiction. However, all individuals who begin their recovery journey must first go through detoxification to remove the toxins of the substances from their bodies. By utilizing opioid detox services, individuals can begin their healing on the right foot and continue into further addiction treatment services, such as OAT or behavioral therapy.
At Asheville Detox Center, we provide detox services for all substance use disorders, including opioid use disorder. Our mission is to provide our clients with an effective, necessary service in a safe, comfortable environment. Alongside medical detox, we also provide aftercare support services, medication-assisted treatment, and inpatient rehabilitation services to those struggling with addiction.
If you or a loved one are looking for opioid detox services or other addiction treatment services, contact our specialists today to learn more about our programs.
Reviewed By A Specialist In The Field