Embarking on a journey of sobriety is an empowering decision, allowing individuals to break free from the clutches of substance abuse. Yet, even after days of abstaining from mind-altering substances, some individuals find themselves experiencing lingering sensations that resemble a state of intoxication. This phenomenon is most commonly seen when smoking weed. However, other substances can have these same effects.
In this article, we will focus on why you might still feel high after four days of sobriety after consuming cannabis. To do this, we will look into what THC does to your body, the side effects of THC, why you can still feel high, and how to come down from the high.
What Does THC Do To Your Body?
Tetrahydrocannabinol, THC, is the primary component found in cannabis, also known as marijuana, weed, or pot. When consumed, THC binds to cannabinoid receptors in the brain and causes the psychoactive effects that are associated with using marijuana. While many people experience these effects for a short time, typically a few hours, there have been instances of people experiencing these effects for days.
Learn more about the effects of marijuana on dopamine here.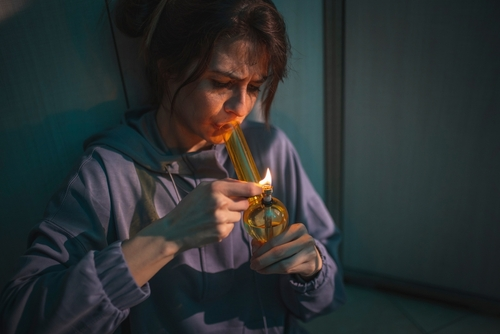 Side Effects of THC
THC can produce various side effects, especially when consumed in high doses or regularly. While it's important to recognize these side effects, it is also important to note that they can vary depending on various factors. Dosage, frequency of use, individual body composition and tolerance, and the method of consumption are all factors that can influence the side effects felt and intensity. Some of the most side effects of THC are:
Feelings of euphoria
Short-term memory loss
Anxiety
Increased heart rate
Paranoia
Fatigue
Impaired motor function
Increased cravings for food
How Long Does Weed Stay in Your System?
If you are still experiencing the effects of THC after days of use, your body might still be processing the weed in your system. Similar to the factors that can impact THC's side effects, the duration of weed in your system can also depend on those factors. While it can be challenging to provide an exact timeframe, some general guidelines exist for how long weed can stay in your system.
Urine: In urine drug tests, THC and its metabolites can typically be detected for up to 30 days in regular, chronic users. However, occasional users may test positive for THC for up to 10 days. It's worth noting that individual factors such as body fat percentage, hydration levels, and metabolism can influence the detection window.
Blood: THC is detectable in the bloodstream for a shorter duration than urine. In most cases, it can be detected within a few hours to a few days after use. For frequent users, THC may be detectable in the blood for up to a week, but for infrequent or one-time users, it may only be detectable for a day or two.
Saliva: THC can be detected in saliva for a shorter duration than in urine or blood. It is typically detectable within a few hours to a day or two after use. However, in some cases, saliva tests may not be able to detect THC beyond a few hours after consumption.
Hair: THC can be detected in hair follicles for an extended period, even after a long time has passed since use. Hair tests can detect cannabis use from months to years, depending on the length of hair tested. However, it's worth noting that hair tests are less commonly used for detecting recent cannabis use and are more often employed to determine long-term patterns of drug use.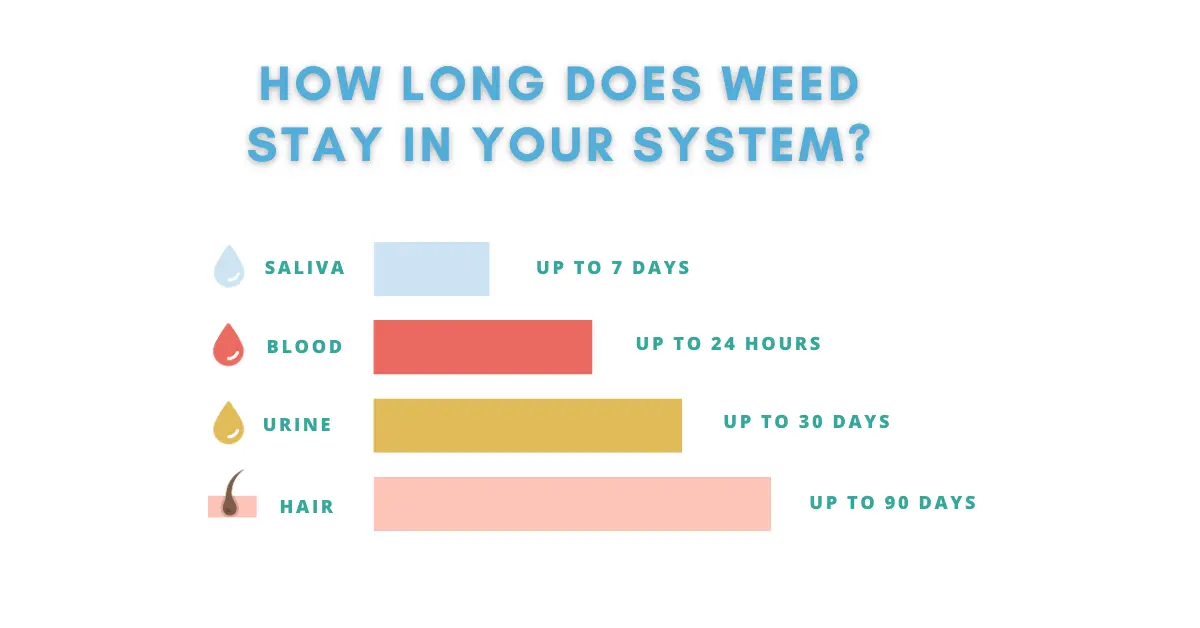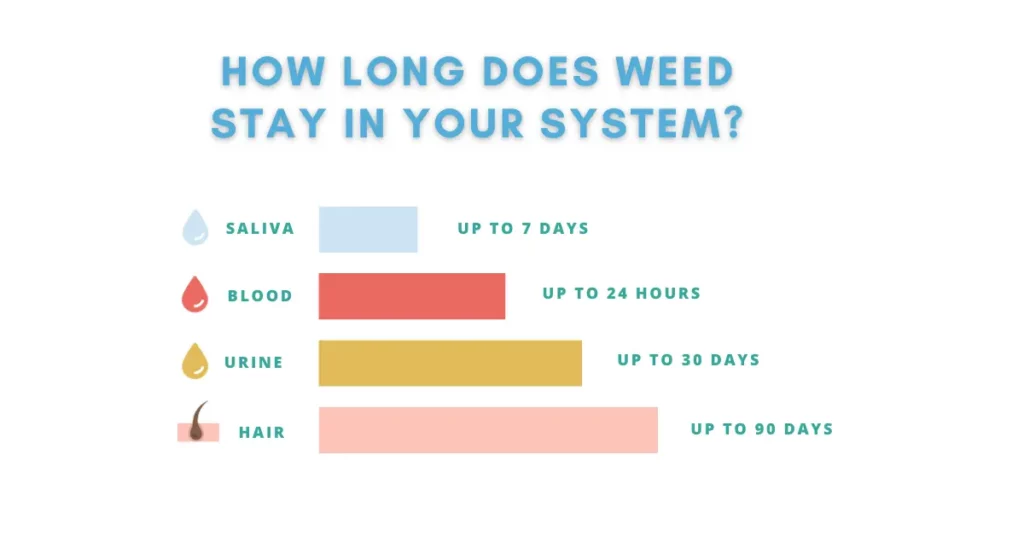 Why Do You Still Feel High After 4 Days?
It is highly unusual to feel the effects of THC, or weed, for four consecutive days. While the typical duration of a cannabis high can vary on various factors such as the dosage, method of consumption, and tolerance, the effects are usually short-term, only lasting for a few hours. However, there have been reports of individuals experiencing a high that lasts several days. This raises the question, "Why might you still feel high after four days?"
There are a few reasons why you might still be feeling the effects of weed, even after days of using. Some of these reasons include the following:
High THC Concentration: Consuming cannabis products with a high concentration of THC can increase the intensity and duration of the high. Edibles, for example, can produce more prolonged effects as the liver metabolizes THC into a more potent form.
Tolerance: Regular marijuana users may develop a tolerance to THC, requiring higher doses to achieve the desired effects. In such cases, it is possible that the lingering effects could be a result of a higher dose due to increased tolerance. It is also common for first-time users of marijuana to experience more intense effects due to their lack of tolerance.
Metabolism and Elimination: Individuals with slower metabolisms may take longer to process and eliminate THC from their bodies, leading to a prolonged high or residual effect. If you have a higher metabolic rate, your body can process THC in your system faster, resulting in a shorter high.
What is a 'Weed Hangover'?
A 'weed hangover' refers to residual effects or symptoms that some individuals may experience after using a significant amount of marijuana. These effects are typically experienced the day following consumption and can resemble the experience of a traditional alcohol hangover. While not everyone experiences a weed hangover, those who may report a range of symptoms, including:
Cognitive impairment
Fatigue
Dry mouth
Headache
Nausea
Memory loss
Continue reading here to learn about 'greening out' and overdosing on weed.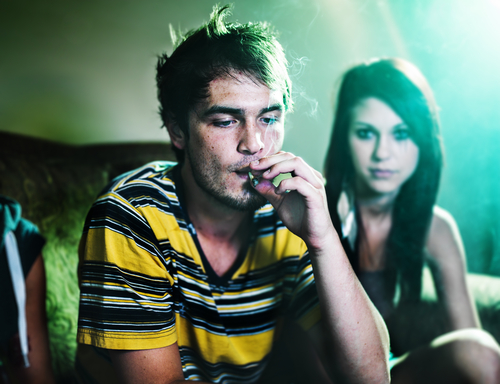 Other Substances & Their Lingering Effects
Cannabis is not the only substance that can cause you to feel high long after your last use. Chronic substance use of any kind can result in these substances staying in your system longer and causing the intoxication phase to keep going. Some common substances and their lingering effects can include:
Alcohol: Alcohol can produce lingering effects even after the initial intoxication phase. These effects, commonly called a hangover, may include headache, fatigue, nausea, dehydration, and cognitive impairment.
Benzodiazepines: Benzodiazepines are a class of prescription drugs commonly used for anxiety and sleep disorders, such as Xanax. After the effects wear off, individuals may experience residual drowsiness, confusion, and impaired coordination. These effects can persist into the following day, particularly with long-acting benzodiazepines.
Stimulants: Stimulant drugs like cocaine, amphetamines, or methamphetamine can produce lingering effects after the initial high. These effects can include increased heart rate, elevated blood pressure, insomnia, anxiety, irritability, and decreased appetite.
Opioids: Opioids, such as prescription painkillers or heroin, can cause long-lasting effects after use. These effects may include drowsiness, slowed breathing, constipation, and mental confusion.
How to Come Down From Being High
Feeling high for long periods of time can feel stressful or even scary at times. While your body will eventually process the drugs from your system and return to normal, if the high has persisted for days, you may be looking for solutions on how to 'come down' from being high. 'Come down' refers to the downward phase of intoxication. It is the point when you begin sobering up, and your body starts to return to normal. If you are trying to speed up this process, here are some tips to use the next time you need to come down from a high:
Stay Hydrated: Drink plenty of water to stay hydrated. This can help alleviate dry mouth and may contribute to a sense of grounding.
Practice Deep Breathing: Slow, deep breaths can help promote relaxation and reduce anxiety. Focus on your breath, taking long inhales and exhales to help calm your nervous system.
Snack on Citrus or Peppercorns: Some people find that consuming citrus fruits or chewing on whole peppercorns can help alleviate the effects of being too high. The terpenes found in these substances, such as limonene in citrus and beta-caryophyllene in peppercorns, may interact with the cannabinoids in cannabis and provide relief.
Try CBD Products: CBD has been found to counteract the effects of THC, reducing the amount of anxiety an individual may experience. Since CBD interacts with different receptors in the brain than THC, CBD can balance out and reduce the intensity of the high.
Get Some Rest: If possible, find a comfortable place to rest or take a nap. Creating a quiet, safe, and comfortable environment for you to be in can help you feel safe and reduce anxiety. Sleep helps you gradually come down from the high.
Drug Detox Services in Asheville, NC
If you find yourself or a loved one frequently experiencing highs that last four days, it is time to contact an addiction treatment center. While everyone experiences intoxication differently, it's crucial to recognize when someone is developing an addiction to the substance. One prominent way of doing this is if their highs last a significant amount of time.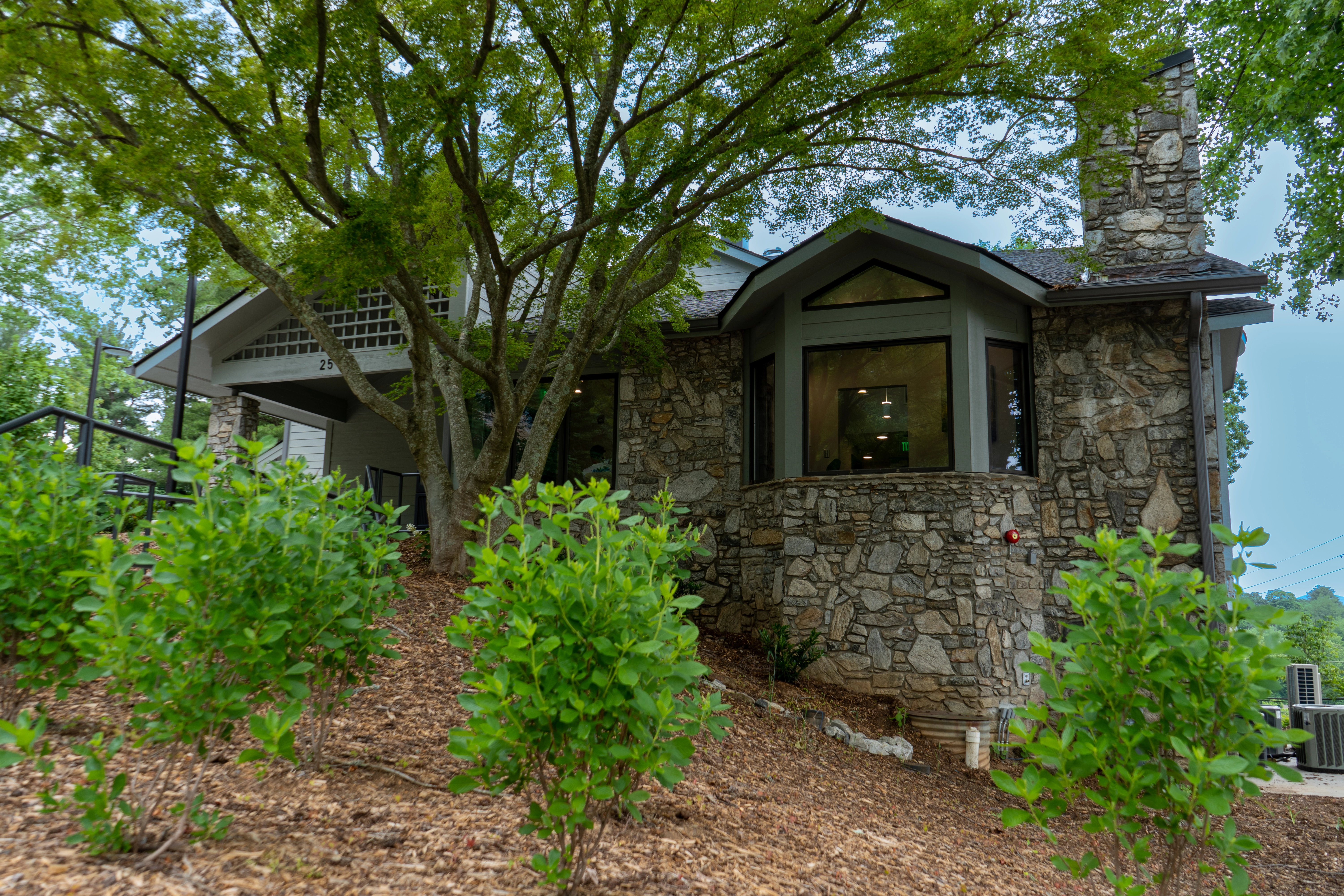 At Asheville Detox Center, we combat drug addiction by providing the first step in your recovery journey. Our treatment programs focus on detoxing any substance from your body while helping you manage withdrawal symptoms. Our client's safety and comfort are our number one priority, and we are here to provide you with the highest levels of comfort.
If you or a loved one are suffering from a substance use disorder or need medical detox services, contact us today to get started. Begin your healing with us.