Experiencing chest pain after drinking alcohol is a common side effect and can occur even after a single night of heavy drinking. While it is essential to understand the underlying causes of this symptom, it is also crucial to recognize that abstaining from alcohol may be necessary if you frequently experience chest pain. However, for individuals struggling with an alcohol use disorder, cutting down on their alcohol intake can be challenging.
This article aims to answer the question: why do you experience alcohol chest pain? Throughout the article, we will discuss the symptoms and side effects of drinking alcohol, possible causes of alcohol chest pain, and strategies to prevent chest pain.
How Does Alcohol Affect the Heart?
When drinking alcohol, your body experiences many different symptoms. Alcohol can have both short-term and long-term effects on the heart. While moderate alcohol consumption may benefit cardiovascular health, excessive or chronic alcohol intake can lead to various adverse effects on the heart and cardiovascular system. Some effects of alcohol on the heart include:
Increased heart rate or arrhythmias
High blood pressure
Heart disease
Heart failure
While some may say that alcohol consumption can be good for the heart, a study from 2022 has shown that any amount of alcohol can be hazardous to the cardiovascular system. However, alcohol consumption can affect everyone differently, and it's important to understand the risk of drinking alcohol, no matter how small the amount.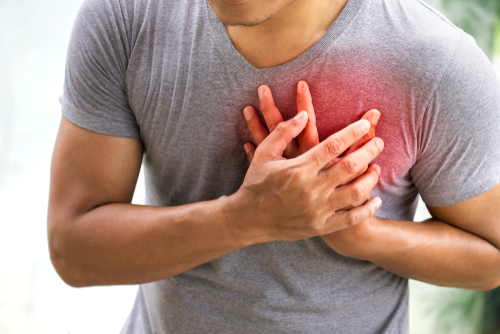 Symptoms of Excessive Alcohol Consumption
While the above is the side effects specifically on the heart from alcohol consumption, it's important to note that there are other effects that can cause strain on the heart. Excessive drinking can lead to a wide range of symptoms that affect various aspects of an individual's life. Some of these symptoms include:
Headache
Nausea or vomiting
Dehydration
Heartburn or acid reflux
Decreased coordination
Impaired sleep patterns
Learn more about the physical signs of alcohol abuse here.
Can Alcohol Cause Chest Pain?
The short answer: Yes, alcohol can cause chest pain. Chest pain, also called angina, can result from overall alcohol consumption, and understanding how this occurs is essential in preventing dangerous symptoms and living a healthier life. There are three overarching reasons why you may experience chest pain after drinking alcohol. These reasons are alcoholic cardiomyopathy, hypertension, and the potential for heart attacks.
Alcoholic Cardiomyopathy
Alcoholic cardiomyopathy is a form of heart disease that is caused by excessive and chronic alcohol abuse. This condition occurs through the weakening, stiffening, or thinning of the heart muscle, which can then cause an irregular heartbeat. While you may not experience symptoms until the condition has advanced, some of the symptoms of alcoholic cardiomyopathy include:
Chest pain
Shortness of breath
Swelling of extremities
Heart palpitations
Fatigue or weakness
Dizziness and fainting
Hypertension
Hypertension, or high blood pressure, has long been known to be a symptom of heavy drinking. This elevated blood pressure causes strain on the heart and blood vessels, increasing the risk of cardiovascular problems, including chest pain. Since having high blood pressure can damage the arteries, this can impact the oxygen and blood flow. This then leads to an increased risk of heart disease, heart attack, and heart failure.
Heart Attack
Heart attacks, medically known as myocardial infarctions, can cause chest pains and extreme discomfort. Alcohol consumption, specifically heavy or binge drinking, can drastically increase the risk of heart attacks. While drinking alcohol can raise your blood pressure, it can also cause an increase in cholesterol that can clog arteries, thus leading to a heart attack. The most common symptoms of a heart attack can include:
Chest pain, specifically on the left side of the body
Chest tightness
Difficulty breathing or shortness of breath
Fatigue
Nausea or vomiting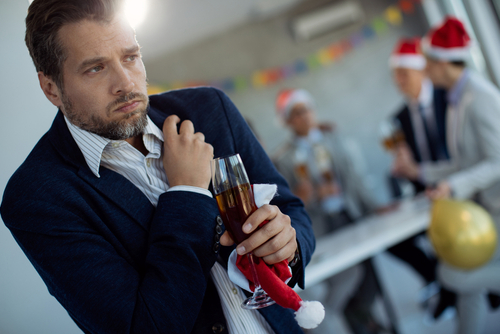 Preventing Alcohol Chest Pain
The easiest way to prevent alcohol chest pain is to abstain from drinking alcohol altogether. Because chest pain comes from various health conditions caused by alcohol, the simplest solution is to stop drinking. However, there are other strategies to help prevent alcohol chest pain. These strategies include the following:
Greatly reduce alcohol intake
Avoid or stop smoking
Maintain a healthy weight
Manage stress
Treat underlying health problems such as high blood pressure, diabetes, or other heart conditions
Receive addiction treatment to prevent relapses
Alcohol Addiction Treatment
Alcohol addiction, also known as alcohol use disorder, can result from chronic binge drinking and can have life-threatening consequences. Experiencing alcohol chest pain and the previously mentioned symptoms of excessive alcohol use frequently can be a sign of alcohol addiction. Treatment options for alcohol addiction can vary, depending on the individual's needs. However, the most common forms of alcohol addiction treatment are:
Medical Detox: Treatment will typically begin with medically-assisted detoxification to remove any trace of the substance from the body. This helps individuals manage withdrawal symptoms in a safe, supportive environment as the body adjusts to life without alcohol intake.
Behavioral Therapy: After detox, many individuals will attend behavioral therapy sessions to identify and change negative thought patterns, behaviors, and triggers related to alcohol use. Cognitive behavioral therapy (CBT) is a widespread form of therapy and helps individuals learn to deal with triggers and reduce cravings. Many other forms of therapy may be more beneficial, and it's important to find what works best for you.
Aftercare Services: Successful addiction treatment typically involves life-long support and relapse prevention strategies. This can include ongoing therapy, support groups, and regular check-ins with medical professionals.
Learn more about medically-assisted alcohol detox here.
Alcohol Detox Services in Asheville, NC
Are you or a loved one experiencing chest pain from drinking alcohol? If so, it may be time to think about detoxing from alcohol. As mentioned above, detox is the first step in the recovery process, and finding a suitable treatment facility can be challenging.
At Asheville Detox Center, located in Asheville, NC, our clients receive 24/7 effective, evidence-based treatment services. The safety and comfort of our clients are our number one priority as we help guide you at the beginning of your recovery journey. Our treatment center offers medically-supervised detox, medication-assisted treatment, and aftercare services.
If you or a loved one are struggling with alcohol addiction, contact us today to learn more about our programs. Begin healing today at Asheville Detox.
Reviewed By A Specialist In The Field