In this article, we will discuss the differences between detox and medication-assisted treatment, the specific medications used in both treatment approaches, and how to decide what medication is best for you.
What's the Difference Between Detox & MAT?
Medical detoxification and medication-assisted treatment (MAT) are two different therapeutic approaches to treating substance use disorders and addiction. These approaches are typically used in addiction treatment programs and detox centers. MAT can encompass detox because they both involve medication, but detox is usually a standalone service. Some of the main differences between the two include:
Purpose:

Detox: Detoxification is the process of removing drugs or alcohol from a person's system. It is primarily aimed at managing withdrawal symptoms and helping individuals safely and comfortably stop using substances. Detox is the first step in addiction treatment and prepares individuals for ongoing therapy and rehabilitation.
MAT: Medication-assisted treatment is a longer-term approach that uses medications in combination with counseling and behavioral therapies to address addiction. MAT is designed to help individuals maintain their abstinence from drugs or alcohol, reduce cravings, and prevent relapse over the long term.

Treatment Duration:

Detox: Detox is a short-term process, typically lasting several days to a week, during which the focus is on stabilizing the individual and eliminating the substance from their system.
MAT: MAT is a longer-term treatment approach that can extend for months or even years, depending on the individual's needs.

Counseling and Behavioral Therapy:

Detox: While counseling and therapy may be provided during detox, the primary focus is on the physical withdrawal process and safety. The psychological and behavioral aspects of addiction are not fully addressed in detox.
MAT: MAT includes counseling and behavioral therapy as integral components of the treatment. These therapies combined with medication help individuals address the root causes of their addiction, develop coping skills, and make lifestyle changes necessary for long-term recovery.
Read More: Am I an Addict? How to Tell if You Really Have a Problem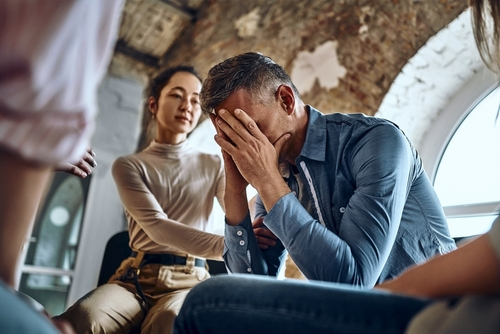 What Medications Are Used in Detox?
The typical detox process involves medications to relieve or reduce withdrawal symptoms, ensure the individual's safety, and are meant to be used short-term. Some of the most common medications used in detox include benzodiazepines, antidepressants, and over-the-counter medications.
Benzodiazepines
Benzodiazepines are a class of central nervous system depressants mainly used to treat alcohol withdrawal symptoms Some of the most common benzodiazepines used in detox include:
Diazepam (Valium): Diazepam is one of the most frequently used benzodiazepines in alcohol detox due to its long duration and effectiveness in managing alcohol withdrawal symptoms. It helps reduce anxiety, prevent seizures, and alleviate agitation.
Lorazepam (Ativan): Lorazepam is often used for both alcohol and benzodiazepine withdrawal and has a relatively fast onset of action.
Oxazepam (Serax): Oxazepam is used in alcohol detox due to its relatively short duration of action. It helps manage anxiety without the sedative effects of longer-acting benzodiazepines.
Clonazepam (Klonopin): While not as common as some other benzodiazepines in alcohol detox, clonazepam is mainly used when managing withdrawal from sedative substances like opioids.
Benzodiazepines should only be used under the close supervision of medical professionals in a controlled detoxification setting, as these medications can be habit-forming and require careful management to prevent addiction. Administering these medications should be carefully considered, as an individual may have previously abused them.
Antidepressants
While detox primarily focuses on managing the physical withdrawal symptoms of substance use, it's essential to recognize that many individuals with substance use disorders also struggle with co-occurring mental health conditions, including depression and anxiety. Some of the most common antidepressants used include:
Selective Serotonin Reuptake Inhibitors (SSRIs): SSRIs typically used in detox include Fluoxetine (Prozac) and Sertraline (Zoloft). Prozac is an SSRI often prescribed to individuals with depression, generalized anxiety disorder, and other mood disorders. It's known to reduce the risk of withdrawal symptoms, and can be quickly discontinued. Zoloft is another SSRI used to treat depression, social anxiety disorder, and panic disorder.
Serotonin-Norepinephrine Reuptake Inhibitors (SNRIs): Some common SNRIs used in the detox process include Venlafaxine (Effexor) and Duloxetine (Cymbalta). Effexor is an SNRI that may be prescribed for individuals with depression, generalized anxiety disorder, and certain other mood disorders. It affects both serotonin and norepinephrine levels in the brain. Cymbalta is another SNRI used for conditions such as major depressive disorder, fibromyalgia, and generalized anxiety disorder.
Over-The-Counter Medications
Over-the-counter (OTC) medications, such as acetaminophen and non-steroidal anti-inflammatory drugs (NSAIDs), can be used to alleviate physical withdrawal symptoms. Some common OTC medications used in detox include:
Acetaminophen (Tylenol): Acetaminophen is often used to relieve pain and reduce fever. It can help alleviate body aches, headaches, and general discomfort that individuals may experience during withdrawal.
Non-Steroidal Anti-Inflammatory Drugs (NSAIDs): Some common NSAIDs include Ibuprofen (Advil, Motrin) and Naproxen (Aleve). NSAIDs like ibuprofen are used to reduce pain, inflammation, and fever. They can help manage headaches, muscle aches, and joint pain during detox. Similar to ibuprofen, naproxen is used to relieve pain and reduce inflammation.
Electrolyte Solutions: In some cases, electrolyte solutions or oral rehydration solutions may be recommended to help individuals maintain proper hydration during detox. These solutions can help replenish vital electrolytes lost through symptoms like sweating, vomiting, or diarrhea.
Cough and Cold Medications: In cases where individuals experience respiratory symptoms during detox, OTC cough and cold medications may alleviate symptoms like cough, congestion, or a runny nose. However, the use of these medications should be carefully considered, as some may contain ingredients that can be habit-forming, such as codeine.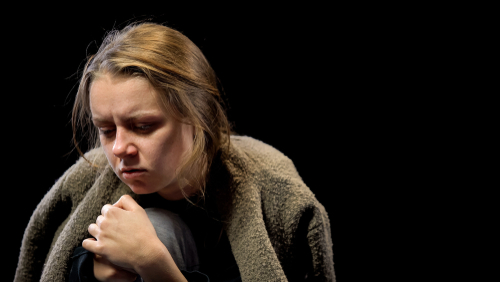 What Medications Are Used in MAT?
MAT is considered a highly effective treatment option for many individuals struggling with substance use disorders, as it helps to reduce cravings, minimize withdrawal symptoms, and improve the chances of long-term recovery. The choice of medication used depends on the specific substance abused, the individual's medical history, and their treatment goals. The most common substance use disorders that benefit from MAT are opioid use disorders and alcohol use disorders.
Opioid Use Disorders
Opioid use disorder (OUD) is a complex condition characterized by dependence on opioids, which can include prescription painkillers, heroin, or synthetic opioids like fentanyl. Some common medications used in MAT for OUD include:
Methadone: Methadone is a long-acting opioid agonist that can help reduce cravings and withdrawal symptoms in individuals with OUD. It is typically administered in specialized clinics and requires daily supervision.
Buprenorphine: Buprenorphine is a partial opioid agonist that specially trained healthcare providers can prescribe. It can reduce cravings and withdrawal symptoms, and it is available in different forms, including sublingual tablets and long-acting injectables.
Naltrexone: Naltrexone is an opioid antagonist that blocks the effects of opioids. It is available in both oral and extended-release injectable forms and can be used for OUD after detoxification.
Learn More: Opioid Agonist Therapy: Medications, Benefits, & Side Effects
Alcohol Use Disorders
Alcohol use disorder (AUD) is a chronic condition characterized by problematic alcohol consumption and a lack of control over drinking. Some common medications used in MAT for AUD include:
Acamprosate: Acamprosate helps reduce alcohol cravings and is often used to maintain sobriety in individuals with AUD. It is part of a broader treatment plan that includes therapy sessions.
Disulfiram: Disulfiram deters alcohol consumption by causing negative physical reactions (e.g., nausea and vomiting) when alcohol is consumed. This aversion therapy can be a useful deterrent for some individuals with AUD.
What Medication Is Right For You?
Selecting the right medication for yourself is a critical decision best made with a healthcare provider and psychiatrist, considering the substance, patient medical history, addiction severity, and treatment goals.
In detox, the focus is on safe and comfortable withdrawal, taking into account the substance type, withdrawal intensity, medical history, patient preferences, and withdrawal duration. Medications vary based on the substance. In MAT, medication selection is personalized and influenced by the specific disorder, patient preferences, medical history, treatment goals, monitoring needs, healthcare access, and insurance.
By knowing what medications may be provided during your treatment, individuals can understand how they may help them and decide to take specific ones. Ultimately, this decision should be made with a healthcare provider before starting the treatment process to ensure the proper care is given to the individual.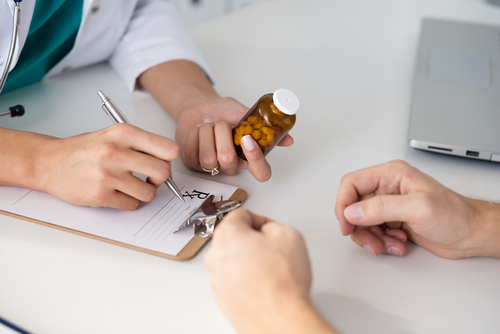 Detox & MAT Services Available at Asheville Detox Center
If you or a loved one are struggling with substance use disorders, utilizing treatment services such as medical detox and medication-assisted treatment can help you take the first step toward sobriety. At Asheville Detox Center, we provide safe, effective, and evidence-based addiction treatment services to those struggling. With our treatment programs, individuals can safely and comfortably go through medical detox, medication-assisted treatment, inpatient rehabilitation, and aftercare preparation.
Contact us today to learn more about our treatment programs and begin your healing.